By DJ Astrocreep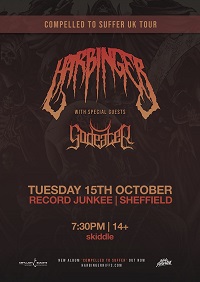 My umpteenth time in Sheffield, my first time in Record Junkee for a gig of somewhat heavy and quicker delights than my most recent gigs would suggest I like. Plenty of heavy, plenty of death, even more technical guitar wankery – that actually sounds pretty damn good. Worth a 150-mile round trip? Only one way to find out!
First on are Malign UK and they bring something that works far better live for me to the table than I'd have thought from their social media. A hardcore/beatdown mix, with a guest vocalist as their usual one can't make it due to an unforeseen personal clash, they are tight enough musically towards the older end of hardcore – think Hatebreed and similar acts – and it knocks the beatdown and deathcore flecks into submission, for anyone not so into those elements, without losing them to the point that people looking for them would not appreciate it quite as much. They harness sufficient aggression and precision that they shouldn't feel intimidated by the tech death band after then and they certainly don't come across as if that is the case, in the slightest. A very capable act that get us all in the mood for the carnage to come. Plus, the drummer is wearing an Ainsley Harriott T-shirt, which is a nice bonus!
Godeater may be new to the scene, having released their debut album a mere couple of weeks ago at time of writing, but man do those boys make some fucking noise! Enough heaviness to make my not so svelte self feel light as a feather and plenty of technical ability to more than fulfil all the criteria for making some real brutality. Almost everyone around me seems to be entranced by the music, swaying, headbanging, celebrating it in whatever their personal custom is. Vocalist Josh comes out into the crowd for a wander, mid set, whilst still growling down the mic, whilst the entire band belies their tender years with a performance that is mature, tight and downright fucking neckbreaking. It's a hell of a set and the gauntlet is well and truly thrown down to Harbinger to take it to another level.

So, Harbinger then. Brutal. Heavy. It's taken down a smidgeon from Godeater, but then there are different influences in play. While not tech death like their main support, there is still a lot of pretty damn heavy shit that spews forth from the London five-piece, which conspires with the previous two acts to increase the level of whiplash I'm giving myself, despite definite attempts at restraint on my part – I'm trying to take notes as I go, after all! It's also very refreshing to note that, bar a couple of people taking short videos, I'm the only person using their phone at any point through the gig, another reason I love gigs that are either more niche or more grassroots, the sheer level of intensity in the atmosphere, the entire feel of the concert is so much better when people either feel like or are there to support the bands and the scene.
Harbinger have been at Bloodstock and Tech-Fest this year, with previous experience also, and the maturity of the performance tells of this greatly. They are not inly comfortable in their own skins on stage,  but in the way they handle the crowd, as guitarists, bassist and vocalist all take turns to either entice the crowd forward or to feel part of things, something some bands seem to lack the awareness to do and certainly something that makes those of us there feel properly encapsulated in the atmosphere and surroundings. While the sound is good, bar the feedback, Harbinger don't just use it, but take full advantage to push their sound further still, to the point where headbanging or just being part of it is longer optional, it's now a requirement. Those around me clearly appreciate it as much as I do and the energy feedback to the band is sufficient to drive them on to another echelon. A great headline performance that makes me want to get to even more similar gigs than I already make it to…
The tour continues at the Beat Generator in Dundee tonight (Thursday 17 October) and then at the Classic Grand in Glasgow tomorrow (Friday 18), Nightrain in Bradford (Saturday 19) and The Anvil in Bournemouth (Sunday 20), finishing at The Pipeline in Brighton on Monday 21.
PHOTO CREDIT: Photo by the author.
All content © Über Rock. Not to be reproduced in part or in whole without the express written permission of Über Rock.