By Monk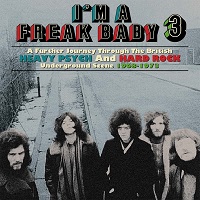 Revelling in the full title of 'I'm A Freak Baby 3 – A Further Journey Through The British Heavy Psych And Hard Rock Underground Scene 1968 – 1973', this rather fruity (sic) three CD boxset must surely have one of the longest titles to have popped into the ÜRHQ so far this year… It also serves to explain what exactly we can expect from it, being the latest in a series of carefully researched compilations to explore the archive of what was arguably one of the most productive and innovative periods in British music history (and not just that of the heavier end of spectrum reflected here).
Many of the bands featured will be more than familiar, in some cases overly so, to all but the most ignorant of fans. On disc one, for example, we have Mott The Hoople, UFO, Deep Purple, Nazareth and The Pink Fairies; on disc two we have Uriah Heep, Hawkwind, the Edgar Broughton Band, The Yardbirds, Chicken Shack and Trapeze, while the third disc offers us up contributions from Free, Budgie, Thin Lizzy, Procul Harum, Geordie and Spooky Tooth. Fair play to the compilers as, in the case of these more recognizable names, they have not settled for the "usual suspects" in terms of track selections, instead plumbing the depths of the bands' individual back catalogues to bring us some real gems. Mott The Hoople, for example, take us to 'The Moon Upstairs' while UFO regales us with the tale of 'Prince Kajuku', Deep Purple offer us a taste of 'Mandrake Root', Uriah Heep are 'Walking In Your Shadow' and The Yardbirds are 'Dazed And Confused' on a rare early variation of the Led Zeppelin classic.
But, of course, alongside the "big guns" of the scene, those who emerged from the darkness of the underground and into the spotlight of a higher level of notoriety, there are also a whole raft of reminiscences from acts who did not quite manage to follow in their illustrious footsteps and who not only fell by the wayside but also past into the mists of heavy rock history, often barely noticed over the intervening years. While the likes of Episode Six, Quatermass and Mick Farren (whose tenure with The Deviants is represented on disc one's 'Slum Lord') stand alongside some of the aforementioned more recognizable luminaries in terms of also having their name indelibly etched in the annals, can the same be said of May Blitz? Or Head Machine? Or Sweet Slag? Where is Creepy John Thomas creeping (sic) around these days? And is Distant Jim still floating around the 'Cosmorama' these days? Or are Grit still exploring mineshafts?
OK, I'm having a bit of fun – or perhaps being a tad facetious, in which case apologies to the acts/artists concerned – but there is a serious point to made, and that is that compilations such as this serve to remind us of some of the damn fine artists which have populated the rock 'n' roll Überverse over the decades but subsequently have slipped through the cracks of faded memories, consigned to the footnotes of Wikipedia-style documentations of historical recording.
Whatever the case, at least their memories have been preserved, albeit digitally, and due respect is being given once more to the musical legacy each and every one of them left us, as embodied in much of the sound we perhaps would characterize or classify as New Wave of Classic Rock. Unlike the NWoCR movement however, one obvious missing ingredient is that of the female lead vocalist, reflecting the fact that, in the late Sixties and early Seventies, heavy rock was still very much a male-dominated field; it is not until NSU's 'Stoned', the 13th track in this 53-song compilation, that we actually hear a female voice, and that is as backing vocals! It very effectively shows how much the British music industry has advanced in the 50-plus years since the era which this compilation captures.
Over the years, the teams at Cherry Red and their associated/subsidiary labels have spent an inordinate amount of time as musical archaeologists, unearthing long-hidden gems buried, some thought forever, in dusty archives and bringing their finds back to vibrant life. As my colleague Ollie Stygall states elsewhere on this site, it is right that we champion new music, and we will continue to do so, but ultimately music is timeless, and a great band is a great band whether they formed last week or half a century ago and regardless of how much success they may have generated. In this regard, this is another educational and rewarding trip down memory lane, and an extremely worthwhile continuing exploration of the heritage of the music we all love today. I would highly recommend that any true heavy rock time stake some time out and indulge in some History 101.
'I'm A Freak Baby 3 – A Further Journey Through The British Heavy Psych And Hard Rock Underground Scene 1968 – 1973' is released on 25 June. You can get your copy HERE.
www.facebook.com/GrapefruitRecords
All content © Über Rock. Not to be reproduced in part or in whole without the express written permission of Über Rock.