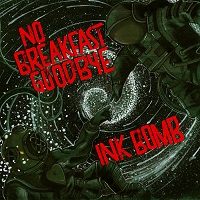 Horn & Hoof say that melodic punk band Ink Bomb, who released debut album 'Fiction' in 2019, and relatively shiny Dutch mates No Breakfast Goodbye, for whom this is a first release, created this split EP as a flexible response to COVID 19. I think they created it because that's what punk bands do. They drag each other up, they share each other's space until established. The cover art here depicts the diver from No Breakfast Goodbye's video for single 'The Loser's Club' as well as the astronaut from Ink Bombs' taster 'Mutilation Boy'. It's clever work. The two stare at each other as they float together in their own versions of the dark abyss. Connected despite the darkness.
The first half of the EP is the domain of melodic punk four-piece Ink Bomb. Their sound is… a bit off kilter, fast and messy. 'Mutilation Boy' has an aggressive keel as it delivers its message of despondence at western corruption and the intention that inevitably turns to an inability to stand up and go your own way. If you listen to the competing noise closely enough, you can hear that the melodies do fit together and are timed well, but the overall impression is of dishevelled disorder. You have to keep listening.
Compared to this, 'Dorothy Enters Technicolour' is almost melodic, which is ironic as it features notorious screamer Roos Centimane (Stark) whose enchanting vocal overlay makes the track. A song about the triumph of feminism it describes how she who was caged will now tear apart the system and smash through any barriers standing in her way. The video for this pre-release features a whole load of vivacious and boisterous lassies.
Finally, we have 'Turn it Around' which has me still really struggling to warm to singer Joost Hoedemaekers' vocal. I don't get anything from it, personally. Paul (also of The Giant Low) is clearly a capable drummer, but seems behind, then in front of everyone else at times in this track, making his own way through the minefield at lightspeed and ending up warped somehow.  I wonder why the name Ink Bomb niggles in my mind and finally realise that it stimulates a (tenuous) electrochemical link to 'Caffeine Bomb' by The Wildhearts. I love that song. I love caffeine. I don't feel this way about Ink Bomb, they're not building a fire in my brain with these three tracks.
I pin my hopes on No Breakfast Goodbye. Also from Nijmegen in the Netherlands, this band aims for a skate punk flavour that is lighter than their pals'. However, they still set a pace as ''…corny breakup song'' 'No Dice' cracks the door with the sound of distorted guitars, before bursting through it full throttle. Upbeat for a song about loss, it still reminds me of a plastered-on smile, one that doesn't reach the eyes. Good Riddance pops into mind, not in terms of musical style but lyrically there are some real gems here that will make it a classic. ''I've looked at your pictures just to feel some remorse, I've ripped them apart just to settle the score''. It's a blistering punk track.
Waiting in the middle is 'The Loser's Club'. About running away and hiding from the truth, it fits nicely with the theme of 'Mutilation Boy'. This is a track that drives rhythmically forward til' your head begins to shake. If you like NOFX or Blink-182 it's that sort of sound. It has some interesting pace changes and percussive beats.
Of the three No Breakfast Goodbye songs, the wonderfully named 'Fisherman's Friend' is the one that sits with me early on, offering me a strong breath of fresh air in the way that the punk and pop rhythm fit together like menthol and eucalyptus (sorry, sorry). The melody worms into my ear in the first few bars, before the guitar punctuated by scratched strings brings a massive smile to my face.  I have to say I find frontman Simon Janssen's vocal is much more appealing than that of Hoedemaekers though it's hard to pinpoint why. I think it's because I can feel it. At the end there's an extended and unexpectedly mellow outro. Stick this on repeat and thank me later.
And that's it. It's over. Not even time for breakfast before we're kicked out. I preferred the second half of the evening. Ink Bomb tried a bit too hard early on. Complex and jarring melodies are impressive if you think about it, and if you listen carefully, but you're not always naturally drawn to them. Whereas No Breakfast Goodbye just effortlessly picks folk up and carries them along with them, and that's what makes for the best night out. Well, unless you're looking for a fan of classical or ballet or something. Unfortunately, they'll dump you on your ass at the end of this short EP and leave you looking after them with a wistful glance… Hey, just as well I've got your number. We'll meet again.