By Monk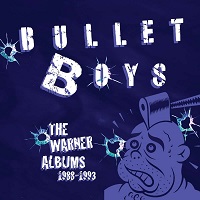 BulletBoys are one of those bands who epitomize and exemplify the story of the vast majority of bands who sought their own particular brand of fame and fortune during the briefly lived hair metal era of the late Eighties/early Nineties. Apparently appearing out of nowhere in a blaze of overnight sensationalism, they quickly became the darlings of both the airwaves and MTV. However, by the time they hit their second album, the hair metal phenomenon, with a very few exceptions, was already being seen as yesterday's news, and by their third it had been all but swallowed by the tidal wave of the next big trend, grunge.
Like a lot of their contemporaries on the LA scene of the late Eighties, the BulletBoys had been around the block. Guitarist Mick Sweda had been a mainstay of Carmine Appice's King Kobra project, in which he was briefly joined by Marq Torien, who in turn had featured in an early incarnation of Ratt. The pair emerged from the ashes of KK to team up with previously untried bassist Lonnie Vencent and session drummer Jimmy D'Anda, before then hooking up with the hottest producer in town, Ted Templeman, who had helped propel Van Halen (on whom BB very heavily modelled themselves, with their combination of guitar showmanship and charismatic vocals) to the top with his work on their first four albums.  No doubt, the 'Boys hoped his sprinkling of his magic dust would have a similar effect on them – and, briefly, it did, with 'Smooth Up In Ya' earning them heavy rotation on MTV, and the world seeming to be their oyster…
Unfortunately for BB, they wasted a lot of time, three long years in fact, coming up with second album 'Freak Show', by which time the hair metal bubble was already about to burst; the cans of hairspray were running on empty, and the make-up was congealing in its boxes, which inevitably saw them very much tagging on to the sub-genre's coat-tails as it started to take its last ride into the Californian sunset, something reflect in its lower sales, although it did spawn a couple of minor chart-bothering singles, in the form of 'THC Groove' and covers of Tom Waits 'Hang On St. Christopher' and J.B. Lenoir's 'Talk To Your Daughter', the latter pair of which showed that this was one bunch of Strippers (sic) who had more to their musical repertoire than a couple of throwaway bubblegum pop hits. However, it is a sad footnote that this period of the band's history will perhaps best be known for the inclusion of their cover of Montrose's 'Rock Candy' (originally included only as a bonus track on the CD version) on the 'Wayne's World soundtrack.
It could be argued that 'Za-Za' was the album that should have finally established the band's credentials as serious heavy hitters, being the first to feature 100 per cent original material and seeing them move away from the penchant for relying on covers to garner them some bothering of the lower regions of the mainstream charts. In my opinion, the album, which also saw them start to bring more diverse elements, such as funk, into their sound, remains an extremely strong offering, but it just came at completely the wrong time: as mentioned above, the tsunami of grunge and the "Seattle sound" was inexorably surging its way down the West Coast, with the media (and fans) falling and fawning over the unwashed bad boys on the block rather than overblown pretty ones who had been hanging out there for the last half decade or so…
As sales fell exponentially, Torien has done his utmost to keep the BB brand alive in the intervening three decades, with a revolving door of musicians that has included the likes of GN'R's Steven Adler and DJ Ashba and FFDP's Jason Hook, releasing a further six albums to varying degrees of mediocre success.  However, with the original line-up of the band back together for the first time since those heady days of the Strip lights and hitting what could arguably be best described as the US classic rock legacy circuit (they're currently playing a socially distanced theatre tour with Winger and FireHouse), this is a timely reminder of the talent of a bunch of musicians for whom circumstances seemed to conspire against fulfilling their potential, of the band's pedigree and contribution to the hair metal legacy.
Having said that, and to be brutally honest, this compilation brings nothing new to the table, merely doing what it says on the label and pulling together the three albums from their time at Warner Brothers into one neat package, with no added "bonus" features or obscure alternative outtakes. Diehard BB fans undoubtedly will have all three of these releases in their collections, on either the original vinyl or CD (or both), and there is little to attract to attract more casual listeners to splash the cash and invest in an entire section of a back catalogue. But, what it does do is bring some very pleasant memories of a time when positive rather than negative attitude reigned supreme, and as such it is a worthwhile representation of the BulletBoys' legacy.
'The Warner Albums 1988 – 1993' is released on 18 June. You can get your copy HERE.
www.facebook.com/TheBulletBoys
All content © Über Rock. Not to be reproduced in part or in whole without the express written permission of Über Rock.