By Monk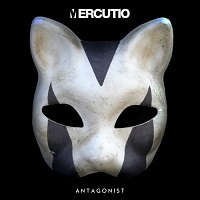 It has to be hoped that London alt-rockers Mercutio do not live up to their ill-starred moniker, taking their name as they do from one of the characters who meets a particularly gruesome end in Shakespeare's tragi-romance 'Romeo And Juliet'. Mind you, it's also probably not the most auspicious of beginnings to seriously launch your career in the midst of a pandemic which all-but closed down the music business as a whole, but the release of the quartet's debut could equally not be better timed, coming as it does as we finally have light at the end of the intensely dark tunnel that has been the past year or so.
Now, I have to admit that, right from the opening phrase of 'Where The Pain Lives' it is extremely difficult to avoid drawing obvious comparisons with Muse, as Mercutio plough very much the same furrow, with dense bass riffs underpinning deceptively progressive guitar work, which in itself combines heaviness with winding melodies that entrance and entwine, drawing you deeper and deeper into the musical web which the band inexorably weaves.
What they also share with Muse is a deep sense of philosophic lyricism, with every word not only clearly enunciated via Ross William Wild's rich and resonant vocals, but thought-provoking in its own right. The result is a densely woven, almost foreboding, atmosphere overflowing with angst and passion while at the same time avoiding being oppressive, despite the darkness of the overall sound, as exemplified most clearly on penultimate track, 'The Ghost That Is You', which beautifully introduces a haunting female voice to ease the previous tension before we once again are stomped underfoot with the fist-punch pummel of 'Revolution Station'.
As I said at the top of this review, let's hope that Mercutio do not share the same fate as their historic namesake and are forced to quit the stage early, as 'Antagonist' is an album which in turn lives up to its own title, daring you not to pay due attention and respect.

www.facebook.com/officialmercutio
All content © Über Rock. Not to be reproduced in part or in whole without the express written permission of Über Rock.