By Monk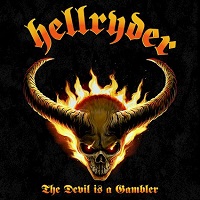 One thing about the pandemic of the last 15 or so months that is virtually indisputable is that it has forced, and in many cases helped, many of us involved in the music business to re-evaluate ourselves and look at the broader picture. In the cases of hundreds, nay thousands, of musicians, it has presented them with the opportunity to explore new opportunities, and maybe take on challenges which had laid dormant due to more positive restrictions placed on them pre-Covid – i.e., the fact that they were simply too feckin' busy to follow them through… Such is the case with this new project from Chris Boltendahl and Axel Ritt of German thrash veterans Grave Digger, who long had wanted to explore their love of more traditional, old-school heavy metal…
With the pandemic taking their main band off the road for the foreseeable future, the pair set about finally fulfilling that ambition that had lain dormant for so long, teaming up with former Bonfire/Freedom Call drummer Timmi Breideband and Orden Ogan bassist Steven Wussow to lay down this collection of 12 back-to-basics neck-snapping anthems, which definitely, and defiantly, do what their creators set out to achieve – and that is deliver a set of metal tunes with enough dirt under their fingernails to keep a potato farmer in business until the end of the next growing season.
If you haven't gathered it already, 'The Devil…' is one of those albums that does exactly what it says on the tin, delivering no nonsense heavy feckin' metal with no airs or graces, no excuses or pleas for forgiveness for doing so, instead concentrating on getting your heads banging and your horns raised faster than Lewis Hamilton's pit crew can change a tyre. Gravelly vocals that sound like a cross between Lemmy and Rob Zombie, pummelling yet melodic guitars, drums that pound their way straight into your heart and a bass heavier than ten tonnes of concrete – yep, there's more ingredients here than my mates in the Hairy Bikers can handle… but it certainly gives them a soundtrack for their next roadtrip, and then some…
'The Devil Is A Gambler' is out now. You can get your copy, and loads of other Grave Digger/Hellryder goodies, HERE.
www.facebook.com/hellryderofficial
All content © Über Rock. Not to be reproduced in part or in whole without the express written permission of Über Rock.