By Monk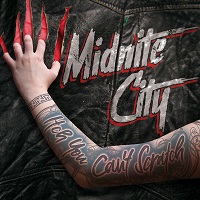 One of the beauties of being in the position that we are in, both as music fans (first and foremost) and journalists (which is very much a secondary consideration), is being able to get in at the very first stages of a band's career and subsequently watch them bloom and blossom into the best in their chosen mine… I've been fortunate to have been in such a position dozens of times, watching a plethora of bands whom it would be unfair to namecheck in isolation develop and grow, building on momentum and, oftentimes, overcoming severe adversity to do so… Of course, many others have fallen by the wayside, but it always has been a pleasure to be there at the beginning… Such as we were with Midnite City…
Yes, we were there, front and centre, when they played their first ever gig – one of only two media outlets to be present to witness the birth of the band that have gone on to become the leaders of the ÜK's all-too scant hair metal scene – a position they have emphasized with this, their declarative and dynamic third album, recorded against the backdrop of the pandemic and yet sounding a clarion call for the brighter future which now lies ahead of us.
'Itch You Can't Scratch' is an album that truly lives up to its name, as it is more infectious than a dose of the beerbug in a Midlands nursing home, with each and every track defining the terms "all killer no filler", strident, confident, declarative and, above all, rockin' with a vengeance. From the opening slink of 'Crawlin' In The Dirt' through the title-evoking 'Atomic', the Leppard-tinged gothic-noir evocation of recent 'Video Of The Week' 'They Only Come Out At Night', the sweeping classicism of 'I Don't Need Another Heartache' to the majestic, Queen-esque, 'If It's Over', 'Itch…' delivers on every level, from the quality and precision of the songwriting to the power and passion of the individual and collective performances. But, a special mention has to be made of vocalist Rob Wylde, as there were multiple times during my repeated listens that I glanced down and literally saw the hairs on my arms standing on end… he has that power, and this surely proves that he ranks as one of the best singers in the Überverse at this moment in time…
They say that the third time is a charm. Midnite City have proven the veracity of that declaration. 'Itch…' is a towering album, one which shows a band at the top of their game, standing head and shoulders above the competition and setting new standards in every department.
'Itch You Can't Scratch' is released on Friday (11 June). You can get your copy, and loads of other Midnite City goodies, HERE.
www.facebook.com/midnitecityuk
All content © Über Rock. Not to be reproduced in part or in whole without the express written permission of Über Rock.