By Jim Rowland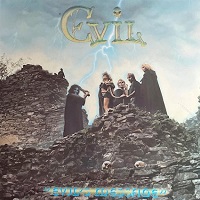 Let's take a trip back to the early '80s and the beginnings of Danish heavy metal, where men of metal had moustaches, and were proud of them. They rubbed shoulders with the likes of Mercyful Fate and Witch Cross and helped pioneer European speed metal. They were Evil…
Originally released in 1984, 'Evil's Message' is a five track EP that turned out to be the only release by these cult Danish metal merchants in their original tenure, which as it turns out is a damn shame as this is really good stuff. Lovingly re-issued by Denmark's Mighty Music on four different coloured vinyls, as well as CD for the first time, this comes out at a good time when interest in more obscure early metal is high, partly down to the success of the 'Job Centre Rejects' compilations over the past couple of years.
Clearly influenced by a lot of the NWoBHM bands that had come a few short years before, 'Evil's Message' packs five powerful punches of great, speedy old school heavy metal, oozing huge crunchy riffs and punchy double kick drum beats, with the opening salvo of the tight and technical instrumental 'Evil's Message' leading into 'Evil' being particularly fine. 'The Devil Wants Me' and the brilliantly named 'Take Good Care (Of Your Balls)' up the tempo even further, whilst 'Son Of A Bitch' slows things down a bit but loses none of the heaviness. All of the above compare very favourably with many of familiar names from the aforementioned NWoBHM era, as well as the likes of Accept on the European mainland. The musicianship is top notch, and whilst not being outstanding, the vocals do the job just fine. If you're a fan of old school, straight ahead, energy packed heavy metal, this is totally recommended.
'Ride To Hell' is a slightly different story only because of the sound quality rather than the quality of the music. This album kicks off with Evil's first demo from 1983, featuring 'Evil', 'Son Of A Bitch' and 'Ride To Hell', and whilst the raw power and energy of the band is most definitely there, the muffled sound quality lets it down a tad, but not to the extent of it being anywhere near unlistenable. In addition to the demo you get five live tracks, none of which are taken from the demo or the EP, that pretty much kick ass just as hard. This incendiary live recording is from a 1985 show in Copenhagen, and looks to have been originally released as a VHS at the time.
Once again, it's very listenable, but the sound does drift in and out at times volume-wise which can be irritating, and I suspect this may have just been lifted from the VHS tape in the first place. It's at this point that the original band bowed out, but worth noting that Evil resurfaced with a full album in 2015 as a project of original drummer Freddie Wolf, with another scheduled for release towards the end of this year.
'Ride to Hell' then is perhaps for the keener fan, or if you're new to Evil perhaps one to pick up after you've sampled the metal majesty of the excellent 'Evil's Message' EP, most definitely a hidden gem re-discovered.
'Evil's Message' and 'Ride To Hell' are released on Friday (11 June). You can get your copies HERE.
All content © Über Rock. Not to be reproduced in part or in whole without the express written permission of Über Rock.