By DJ Astrocreep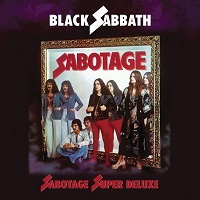 Black Sabbath rightfully sit at the head of proto-metal and celebrating their 50th anniversary is a hell of an achievement for absolutely any act. They are also, unashamedly, my favourite band, whose members were responsible for me wanting to take up two instruments (drums and bass) and the chance to hear a further remastering – especially after being offered a vinyl release for review – was an opportunity I simply cannot pass by. When you add in a lot of extras, as has been done here, there are a number of hours going to be spent in audio heaven listening back to what feels like an underrated release from the rock titans.
Ok, so let's start with what is new, compared to the previous remastering. *Takes a deep breath* A further remastering of all of the tracks, plus some added goodies in the form of a live recording from the 1975 North America tour, taken from Madison Square Garden, a reprint of the programme from that show, a 40-page book containing photos, artwork and liner notes that I personally haven't seen before, a tour poster reprint and finally a copy of the 'Am I Going Insane' single on 7-inch vinyl. That is actually quite a lot of new things added in and goes a good way to explaining the costings of what initially seems a touch expensive for a reissue.
Right, now let's get into the meat of it and discuss the music. 'Symptom of the Universe', arguably the world's first thrash riff alongside other Sabbath masterpiece 'Children of the Grave', sounds phenomenal. While it is, for obvious reasons, less raw than the original, hearing in crystal clear clarity some of Bill Ward's fills that I had previously missed in the thousands of previous plays of the track, as well as how intricately the slower ending of the song has been rewoven into itself is something that genuinely gives me goosebumps. There was a fair amount I had previously missed in a couple of areas of the track that until now I had no knowledge existed and to be finding things like that is a genuine thrill for me.
In addition to 'Symptom', album closer 'The Writ' is one of my favourite Sabbath deeper cuts and I'm again finding things I previously hadn't heard in such detail despite my literally thousands of listens over the years (God bless surround sound speakers), something that occurs more frequently after I listen back to an original pressing of the same album (yes, I am one of those people) and compare notes on both. It is not simply a matter of hearing those extra fills that marked Bill as one of the most influential drummers of his generation, it's the way the relayering of certain aspects of the songs breaths an even fresher life into them that even losing some of the rawness and vibrancy that comes with it does not begin to dampen. It's the way you can pick out each individual aspect in a manner where some were lost at times before, with more things just that are somehow more distinct yet simultaneously interwoven with each other showing quite how much time and effort has been put in to the remastering.
From the remasters into the new stuff, starting with the live album and it is actually a much higher quality recording than I had been afraid of. Ozzy, Geezer, Tony and Bill were at the absolute height of their powers and this comes across immensely in this recording. A blistering setlist, taking up three vinyl discs, that even I would only add in a song or two into, and the replica of the concert programme from that very show in Madison Square Garden – as well as the additional book with its photos, artwork and liner notes – is of excellent quality and leaves me missing live shows even more than I already was, being over 15 months of no in-person concerts for me grating even more recently, as well as the tour poster. A final new addition is a reissue of the 'Am I Going Insane (Radio)' single, with 'Hole In The Sky' as a B-side, which has had the same treatment as the above.
What it boils down to is this. The clarity found in this reissue is of genuine quality and almost opens up the album into brand new territory, there is so much more you now find in the tracks. Given how many extras are included, it's an addition of real significance to the collection of anyone who considers themselves a Black Sabbath fan. It surpassed my expectations in terms of quality throughout, in terms of the music and the extras and shows that despite the fairly lofty price tag, there is still real value and worth in this reissue.
'Sabotage: Super Deluxe Edition' is released today (Friday 11 June). You can get your copy HERE.
All content © Über Rock. Not to be reproduced in part or in whole without the express written permission of Über Rock.