By Monk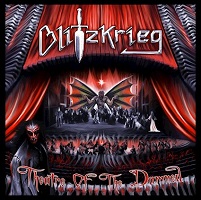 Blitzkrieg are one of those bands that epitomize the story of the New Wave of British Heavy Metal: formed just as the movement was hitting its stride, thanks mainly to the early commercial success of Saxon, snapped up by an independent label in turn formed to champion the nascent new genre, then going on to enjoy some initial success and then be torn apart by internal divisions, later re-emerging, on something of a stop-start basis as NWoBHM underwent various generational revivals…
With only singer Brian Ross remaining the only constant figure throughout the band's on-off 41-year career – they've gone through so many guitarists (16, including current axe wielders Alan Ross and Nick Jennison, the latter of whom only joined last year), drummers (13, including current sticksman Matt Graham) and bassists (12, with Liam Ferguson having taken over the four-string slapping duties in 2019) that they would make the heads of the 'Spinal Tap' scriptwriters spin faster than the government change their minds on Covid restrictions. Nevertheless, they have battled on to produce nine full-length studio albums – of which this re-issue was the seventh.
Originally released in 2007 'Theatre Of The Damned' was the band's sole foray into the realm of a concept album. Quite why they have chosen to remaster and re-release it at this particular time isn't quite clear – it's not as if it is celebrating a particularly significant anniversary, as per the 30th birthday 2015 re-release of their debut 'A Time Of Changes' full-lengther. Perhaps they felt it just needed a bit of a dusting down and a fresh lick of paint – which I suppose that is fair enough, in its own right, especially in the straitened times which we have been forced to endure over the past 15 months. What is does do is give an opportunity to remind us of what Blitzkrieg did have to offer…
But, having said that, this is perhaps not the best exemplar, especially when held alongside the likes of that aforesaid debut or mor recent offerings such as 'Back From Hell' or 'Judge Not', which showed that Ross and whatever incarnation of the band he put forward at the time were still a heavy metal force with which to be reckoned. By comparison, 'Theatre…' sounds twee and over-wrought: yes, it does see Ross stretch his vocals in a way which had never done before, and possibly has not done since, and the instrumentation is impressive – perhaps enhanced by the addition of modern remastering techniques – but overall impact is that of an off-Broadway rock opera destined to close after just a few nights…
The major saving grace is that this re-issue gives us the opportunity to once again revisit the titular track for which they are best known: you know, that one covered by a certain Bay Area band… It's just a pity that, just a few tracks earlier, Blitzkrieg chose to repay the favour of aforesaid act ripping of their sound by doing exactly the same thing… I'll leave you to figure out which song I mean (but it's track eight, if you don't want to go hunting for it). Despite its myriad faults, however, 'Theatre…' does serve to remind us how Blitzkrieg's well-crafted sound helped to shape that of many more modern acts (I'm looking at you Volbeat), even if they in turn chose to follow in the footsteps of their copycats rather than refer back to the original source material.
'Theatre Of The Damned' is released today (Friday 11 June). You can get you copy HERE.
All content © Über Rock. Not to be reproduced in part or in whole without the express written permission of Über Rock.