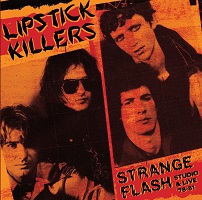 Every day new bands form. A tiny percentage of these will go on to greater success and the vast majority will go on to scale the heights of obscurity. Given that the history of rock and roll is approaching its 70th birthday, it is apparent that, as much as there is a huge outpouring of new music to consume every day, there is a vast backlog of fantastic yet completely unknown music from rock's extensive history. So much so that if you never even heard a note of new music you still wouldn't scratch the surface of old, long forgotten bands. Not all of these bands have been completely overlooked. Someone, somewhere, will still remember even the most obscure band and some will be lucky enough to be brought to public attention long after they've ceased to exist. Fortunately, someone did remember Lipstick Killers and their recorded output is now seeing the light of day on this vast anthology.
Lipstick Killer began life in Sydney in 1978, forming from the ashes of a previous band, Psycho Surgeons and form part of that great legacy of Australian rock that included Rose Tattoo, The Saints, Radio Birdman and, obviously AC/DC to name a few. Finding little success at home they decamped to Los Angeles in search of fame and fortune but sadly crashed and burned after only three short years. That said, for a band who's flame burned so briefly, there is a lot of music on offer here to pass a good couple of hours or so.
Lipstick Killers certainly followed very tightly in the footsteps of Radio Birdman with their supercharged take on 60s R'n'B which they pushed through a filter of the punk scene of the time taking particular influence from bands such as The Stooges and MC5 along the way. This collection shows that they were every bit as vital and thrilling as Birdman. This is high octane rock and roll with a vicious edge that makes up in spades with attitude and swagger what it may lack in finesse. Which is fine as finesse plays no part in real rock and roll!!!
It would take far too much space and bandwidth to run through this compilation track by track and, given that we get two separate live sets and demos here, there is a certain amount of repetition among some of the tracks. Instead let's look at the recordings we do get. Kicking off with two tracks from a 1979 7" we get 'Shakedown USA' and what I suppose could be classed as their biggest "hit", 'Hindu Gods Of Love'. These tracks were produced by Deniz Tek of Radio Birdman fame and perfectly capture the bite and energy the band had complete with a beautifully brash and caustic guitar tone that draws heavily from James Williamson on the legendary 'Raw Power' album by The Stooges.
Following this we get six demo tracks recorded at Mixdown Studios in 1978, including another version of 'Hindu Gods Of Love'. Whilst not as crisp and acerbic as the single the quality of the songs can't be faulted and once again the guitar is driving from the front with claws out.
Next up we get a 16-track live set from a gig in Adelaide in 1979, this time including a live version of 'Hindu Gods Of Love'. The sound quality here is fantastic. Obviously having never seen the band live this recording gives a superb insight into what must have been a tight and thrilling live act. In fact, Keith Morris is quoted as saying "The Lipstick Killers were easily one of the greatest live bands I've witnessed in my 65 years on this planet". When the man behind the original line up of Black Flag as well as Circle Jerks and Off! drops praise like this you should probably listen. It's on these live tracks that the Stooges influence becomes more apparent as vocalist Peter Tillman whoops and hollers in the best tradition of Iggy Pop.
More studio material follows with a nine-track demo recorded for Albert Promotions (one time home of AC/DC) produced by former Rose Tattoo member and all round Australian musical legend Lobby Loyde. The tracks here maintain the high quality of balls out rock and roll of the previous songs, favouring more of the 60s R'n'B vibe than their abrasive punk rock with both the guitar tone and vocal performance having been tamed to give, dare I say it, more commercial appeal. If you're familiar with MC5, imagine the difference between the riotous 'Kick Out The Jams' album and the more restrained 'Back In the USA' that followed it up. In fact, the latter album offers a pretty strong blueprint for this set of tunes. It doesn't have the visceral thrill of the previous material but still showcases a killer rock and roll act.
Back to the live tracks, and we get a live set from Los Angeles recorded in 1981 when the band were at the twilight of their brief career. Once again, the sound quality is absolutely on point, better than the Adelaide show by far and shows that, even as the band approached the end of their lifespan, they'd lost none of the bite as a live act that they had two years previously.
If you opt for the CD version of this release as opposed to the vinyl you will get treated to an additional four tracks by Lipstick Killers precursor band Psycho Surgeons from 1976, two from a 7" and two from a rehearsal. All four tracks show clearly where the foundations of Lipstick Killers lay albeit more brash and in thrall to the burgeoning punk scene of the time having a vibe of The Damned who were just starting out themselves and The Dead Boys, who didn't even exist yet! It does make you wonder of tapes of the band filtered out there and had an influence.
Yes, I hear a lot of people saying you should support new music, and you absolutely should, but ultimately music is timeless, and a great band is a great band whether they formed last year or 43 years ago and regardless of how much success they may have generated. Let's be honest, success is no real measure of quality. It's important to revisit music's past, not just to pay tribute but just because it's bloody great music and without it we wouldn't have what we have today. If you are planning to take a musical trip down memory lane this anthology should be one of your stops along the way.
'Strange Flash – Studio & Live '78 – '81' is out now. You can get your copy HERE.
www.facebook.com/grownupwrongrecords
All content © Über Rock. Not to be reproduced in part or in whole without the express written permission of Über Rock.