By Monk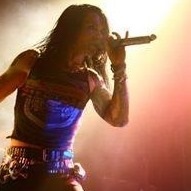 The Über Rock family has been deeply saddened to learn of the death, last month, of rock 'n' roll didact Lord Zion.
Perhaps best known as the frontman of gothic punk 'n' rollers SPiT LiKE THis, Z, as he known to many, was also a prolific writer and film-maker.
He passed away on 19 May, apparently as a result of complications following having a Covid-19 vaccination two weeks earlier. His death was announced this morning by his long-time partner, Vikki Spit, to whom we send our deepest condolences.