By Jonny Bakes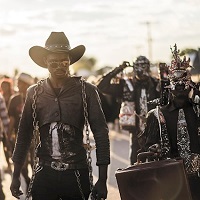 There's been a real surge of metal bands appearing from far flung nations in recent years, with the likes of The Hu and Bloodywood finding significant success in the Über Kingdom, it got me thinking which other nations out there are hiding some significant metal talent. Funnily enough, Botswana was not the first nation to come to mind! But here we are with this collection of Botswana's finest metal offerings.
Well, that last statement might not necessarily be true. The songs on this compilation were gathered during the filming of the Documentary 'Freedom In The Dark' between 2014 and 2017. As of 2018, out of the three million people living in Botswana, there were ten active metal bands in the country with a similar number having called it a day. It's still difficult to record music in Botswana, particularly the heavier stuff, so there are many bands that haven't committed their material to record at all. So essentially what we have here is a compilation of those fortunate few bands that have been able to record their material. So, does it flatteringly represent the Botswana metal scene? Let's see…
We have six different bands to get through on this compilation, each one having their own very unique styles, and being represented by a couple of tracks each. The first striking thing is that there is no real uniting elements that would cause you to identify all of the band's with Botswana. In fact for a country with so few bands, the level of diversity between them is outstanding. There's some heavy stuff there, some good solid chugging, yet also some more melodic and easy listening music as well. So, Crackdust, Metal Prison, Overthrust, PMMA, Stane and Wrust…. let's see what we've got.
Starting with Crackdust, we have two tracks – 'Deranged Psychopath' and 'Desecrate' – to open up the compilation. 'Deranged Psychopath' starts with some Metallica-esque guitar harmonies before launching into some blast beat goodness. Harsh vocals and downtuned guitars are the main elements you'll notice with these guys. 'Desecrate' follows a very similar formula, and I suppose you could probably call this an attempt at melodic death metal although the melodic elements seem more of an add-on than the focus.
Next: Metal Orizon. Another two tracks from these guys, 'Ungazetted Mortuary' and 'We Are Rolling'. The former having a more stoner sound to it, with an interesting spoken word section that really shows off the natural accent which is something that doesn't come across in many songs on this compilation. But then 'We Are Rolling' completely changes direction with a Weezer-like ballad number and while this isn't bad, I would much rather they stuck to the style of the other track! These guys are one of the longest standing metal bands on the Botswana scene, having been active for nearly 30 years so it's arguable that the other bands on the album owe their influences to them, but to which side of them, I'm not sure…
Overthrust's first track, 'Psychosomatic Torture' starts with a hell of a lot of chug. Chug is really the only way to describe the majority of this track, it's heavy and chuggy with some impressive guttrall growls and the odd blast beat thrown in to make sure it's heavy enough. Whereas their second track has more of a groove to it that really got me interested, if they could bring some more of that, then I'll be on-board. Possibly the most internationally successful band on the album, they even managed to bag a slot at Wacken back in 2016. Overthrust also host Botswana's largest metal festival to raise funds for homeless children, so hopefully they will inspire a new generation of bands to follow in their wake.
PMMA are the only band to have just one track on this album, so it would be unfair to judge them solely on that but… I'm sorry to say that I found it almost comical. It seems like they've tried to emulate some power metal they've heard on a bootleg cassette by layering falsetto vocals with growling and synth loops. Maybe with some better recording and mastering 'Imprisoned To Death' could have been better but it's not something I'll listen to seriously. It is, however, something I'll probably crack out at parties for entertainment.
Stane have used a more recognisable formula to churn out some respectable death metal. 'Dictator' and 'Run For Your Life' do exactly what you would expect from the genre. But for me they're are possibly one of the strongest offerings on the compilation, with some better recording and mastering they could pull off something decent.
Finally, we have Wrust, who were the country's first death metal band back in 2000 around the same time as the arrival as television and the internet. This allowed them to gain exposure to a wider audience resulting in gigs abroad sharing the stage with the likes of Sepultura. 'God Of The Insane' and 'The Day Of The Sacrifice' are by far the most well mastered tracks on the album, with the latter capturing some traditional sounding chanting to add some depth and originality to their recordings. I'd quite happily see some more from these guys as well!
So, overall this is a bit of a mixed bag, with some interesting finds thrown in. I'm not sure if there's anything that will set the world on fire, but if you have an interest in metal offerings from the far corners of the globe then it's worth checking this out. Considering this is the pick of those Botswana bands that were able to get some recording down, it makes you wonder what's out there that hasn't been recorded. Regardless, if you do give this album a spin, I defy you not to utter "what the fuck?" when you get to 'Imprisoned To Death'….
'Brutal Africa – The Heavy Metal Cowboys of Botswana' is released on Friday (13 September). You can get your copy HERE.
All content © Über Rock. Not to be reproduced in part or in whole without the express written permission of Über Rock.