Questions by DJ Astrocreep
Every now and again, a band comes along whose name, and sound, intrigue us and make us want to find out more. We came across the gloriously monickered Swamp Coffin a month or so back, when we they submitted their debut EP – the equally wonderfully titled 'Flatcap Bastard Features' – to these very ears for adjudication. Needless to say, I loved what I heard, and so caught up with the Rotherham trio – vocalist/guitarist Jon Rhodes, drummer DW and bassist Shawn Denton – to find out more about the band and their sludgy/drone sound…
I started, as all good stories do, at the beginning, and asked the guys how they met and came to form the band: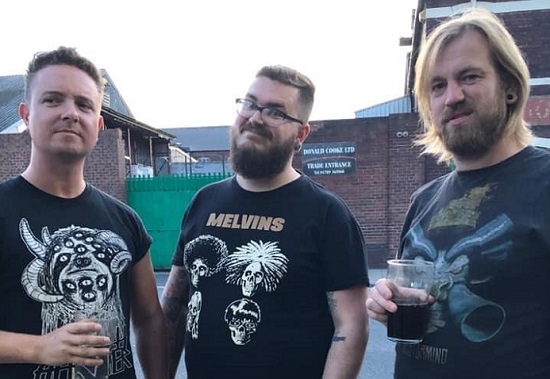 JR: Me and Dave have been friends since school and were in bands together in our late teens/ early twenties. I'd been pestering him for a year or two to do something and in 2016 he finally caved and we started jamming as a two piece. We put a two track release out at the end of 2017 with my brother on vocals. We went through a few bass players until Shawn finally joined the band in Spring 2018. I took over vocal duties as well as guitar seeing as we couldn't find anybody who could tolerate our personalities enough to come in and make us a four piece.
DW: I'd known Jon since school. We were in a few bands in college, but I let my drumming slip once I hit uni. It was actually the prospect of doing a one-off reunion gig with an old band of ours that got us back in the practice room together. We just haven't stopped since.
SD: I met Jon via the powers of Derm (if you know, you know. If you don't you'd likely fall in the purge anyway so don't worry about it) and Dave just sort of came as part of the package.
I get a sense of sarcasm from your songs – is this a big thing for you guys in your writing?
JR: If you've seen any of our Facebook posts you'll know we don't take ourselves too seriously. We're not scared to fuck about and post stupid memes and the same goes with song titles. I think when you hit play and this screaming, sludgy horribleness comes out of your speakers having titles like Last Of The Summer Slime is a good way to catch folk off guard.
SD: No……… we're definitely easy to fall out with.
DW: We don't take ourselves very seriously, but we seriously rock 😉
Are there any particular difficulties you've encountered so far and if so, how did you get past them?
JR: Shawn's entire personality. Other than struggling to find anyone to play bass or do vocals before we settled as a three piece, we've been very lucky so far. The EP has been getting incredibly positive reviews and folk are actually buying it with actual money aswell as shirts with our logo on which is still insane to me. Holy Spider Promotions in Sheffield have been great to us too and to say we're only in our first full year as a proper gigging band and thanks to them we've already played with some insane bands like The Body, Secret Cutter, Leachfeast and OHHMS. We're also supporting Coffins, who I fucking love, on one of only two dates they're doing this year. I'd have never thought we'd be able to say that. That's all down to Holy Spider having a bit of faith in us.
SD: Only difficulties really are dealing with these other two in the band. To be honest music is supposed to be fun and for me it's only as difficult as you make it or allow it to be.
DW: Just the constant struggle of convincing wives to let us rock out every week.
What are your plans for after the EP release?
JR: More gigs. When Shawn first joined, we initially only really wanted to do a couple of shows, but folk seem to like what we're doing and it's snowballed. We've got Gizzardfest in Rotherham in October alongside a host of great bands including King Witch, who we played our first ever show with, and our good friends in Goblinsmoker and Disaster Forecast.
SD: Sell a copy or two, maybe treat ourselves to a 10p mix each! We've got a few gigs for the rest of the year, some time out for more writing and a few gigs booked for 2020 but we'll see what comes our way and play it by ear (no pun intended)
DW: A few more shows to bed it in and then start throwing a few ideas around the practice room, I reckon.
Is there already a start on a full album?
JR: We've got a few songs that were around prior to the EP. It's a case of tweaking those, seeing what fits and then writing begins proper after Gizzardfest.
SD: There are some other songs and some song ideas. We will definitely record something else. It will then be a case of whether it's another self-release or if we can get any interest from anyone to work with us on releasing it. It would also be good to do a split with another band so we'll see what comes of things.
DW: We've got rough work-in-progress stuff, but no we haven't started putting any new stuff together yet. Gotta keep the EP songs sharp for now.
What's the next big step for you guys?
JR: Finding a label to put Flatcap Bastard Features out would be great. There are a few we'd love to work with, just a case of seeing if any of them succumb to our charms.
SD: It would be good to get something out there on a label. We've done pretty well so far as a new band to the circuit, only been together as a three piece for a year but there is only so much you can do on your own and can only reach so far. Let's see what happens.
DW: Baby steps mate.  A few more shows, see if another EP or album formulates, few more shows, who knows.
Is there any festival in particular you'd love to play?
JR: Playing Doomlines was a big goal for us when we started out so playing that this year was amazing so we'd love to do that again. I'd obviously love to play Bloodstock and Download but Damnation, Desertfest and Riffolution are all on the to-play list. In a dream world either Obscene Extreme or Fluff Fest would be incredible
SD: All of them. Doomlines was amazing and would love to do that again. Gizzardfest is looking stunning. I'd be open to anything really. We're open to offers and our inbox and phones are always open.
DW: Would love to play Download. Bloodstock would be a pretty big deal though. We'd play a bar mitzvah TBF.
Finally… you've hit the big time, you're a massive touring band and the world is your oyster. What fucked up stuff do you request for the band rider?
JR: I live a fairly modest lifestyle, so I'd be happy with a good quality bottle of spiced rum, a selection of cheeses and a large box full of live snakes.
SD: Custom bottle of Henderson's relish, one of one from each show at each venue. And pie.
DW: Keg of ale and an N64.
'Flatcap Bastard Features' is out now. You can get your copy HERE.
Swamp Coffin play Record Junkee in Sheffield on Sunday 15 September (supporting Coffins) and GizzardFest III at The Trades in Rotherham on Saturday 26 October.
https://www.facebook.com/swampcoffinband/
All content © Über Rock. Not to be reproduced in part or in whole without the express written permission of Über Rock.