By Rich Hobson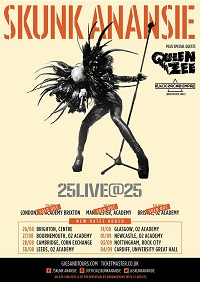 There are sold out shows, and there are SOLD OUT shows. Skunk Anansie's appearance at Nottingham Rock City is most certainly the latter, the venue positively heaving just before the main act take to the stage. Former Glastonbury headliners and one of the finest and sharpest bands in the alt rock canon, it would take a pack of rabid hounds to keep us away from seeing the band as part of their 25th anniversary celebrations. Cramming ourselves in down the sides (with bodies cluttering the balconies, the floor, the walls and just about every surface you can put a grimy hand to), the roar of excitement as the band take to the stage is nothing short of explosive, somehow yielding even louder results as iconic vocalist Skin takes to the stage with dazzling gold shoulder pads that wouldn't look out of place in a World of Warcraft cosplay. But then, this is Skunk Anansie, a band larger than life and filled with all the vitality of the same, never giving less than a thousand percent.
Emotions and energy levels are already high as the band come out to The Prodigy's 'Firestarter' and launch into the pulsing 'Charlie Big Potato', sounding absolutely massive to the point where it feels like no club venue could ever truly hold them. But then, this wouldn't work as well in megadomes and arenas, would it? After all, Skin probably makes it a third of a way through the first song before launching down to crowd level, and the rest of the set sees her popping up like she's figured out the trick to teleportation and just wants to keep everybody on their toes. Even in the wings you aren't safe; she pops up alarmingly close, clambering up to balcony level and prepping the crowd before leaping into their waiting arms for a triumphant bounce around the venue. Eat your pyro – when was the last time you saw an arena band do that?
Sound-wise, Skunk Anansie are every bit as heavy as any alt metal act you've seen, and a damn sight heavier than many not worth bothering with. Balancing the fine line between roaring riffs and melodies which are somehow both massive and offer vulnerable intimacy, sometimes within the same song. This is a full band after all, and for every powerful vocal melody Skin lets loose, you can bet Ace, Cass and Mark will be there to outfit it with something exceptional, whether that be the stadium rock stylings of 'Because of You' or RATM-meets-Living Colour style funk rock of 'All in the Name of Pity'. And then, there's the anthems. You don't get to headline one of the biggest (and most prestigious) festivals in the world without a few bona fide anthems in the tank, and you'll find so, so many here to enjoy – 'I Can Dream', 'Charity', 'Twisted (Everyday Hurts)' and (of course) 'Weak' are monumental, the audience screaming along like they've made an executive decision on how best to spend their final breaths.
As a celebration of the band's history, it's unsurprising that early material makes up a good portion of the set. That said, you can't omit more recent material completely, particularly if it's as catchy and slick as the excellent 'Love Someone Else', a pounding rock club banger that gets the whole dancefloor moving that just needs a few strobe lights to turn into a movie scene. What's more, the new material the band offer up sounds absolutely monumental – latest single 'What You Do For Love' having the manic indie energy of the best acts from the late millennium, while another track (which we admit, we missed the title of) is absolute bedlam, going so heavy it could put some metal acts to shame.
More than just catchy tunes, Skunk Anansie also serve to remind us that you can go massive whilst fighting the good fight. Skin's declaration against racism, homophobia and bigotry is a familiar call to arms in the modern rock scene (particularly if you're in with the right acts), but the fact the band can follow it up with the absolutely monumental messages behind 'Intellectualise My Blackness' and 'Yes It's Fucking Political' lend a gravitas that puts a fresh fire in the belly. The encore includes a sort-of cover of ACDC's 'Highway To Hell', the band repeating the opening chords as we run through introductions – a fair thing considering the massive personalities communicated by everybody onstage. The big finish comes in an utterly furious run-through of 'Little Baby Swastikkka', a final blast of pure energy and righteousness that feels like a distillation of what so many other bands tried to capture in the 90s, taking a scattershot approach to genre and somehow making it worth with absolute aplomb. Only Skunk Anansie, eh.
Twenty-five years into their career, Skunk Anansie are showing absolutely no signs of age (other than an increasingly ludicrous and expansive setlist), the energy levels of band and crowd alike proof positive that some bands age like fine wine (and just a little gasoline). Get down to the next show near you – you won't regret it.
www.facebook.com/OfficialSkunkAnansie
All content © Über Rock. Not to be reproduced in part or in whole without the express written permission of Über Rock.