Introduced by Monk
Hailing from West Palm Beach, Florida, new kids on the nu-metal block Afterlife are about to share some of the sunshine state's warmth with their new album, 'Part Of Me', which is being released by Hopeless Records – yes, we know, the label is better known for its pop punk output, but that doesn't mean they can't push the boundaries a little bit – next weekend. So, that presented us with the perfect opportunity to catch up with singer Tyler Levenson to find out a bit more about the band and what makes them tick…
And the most logical place to start is always at the beginning so, seeing as this feature is called 'Über Rock Introduces…', we kicked off by asking Tyler to tell us who all is the band, and how they came together…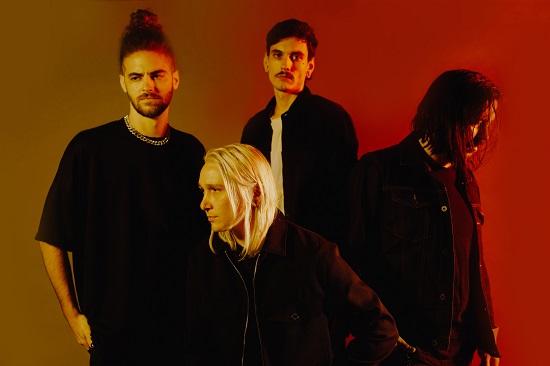 Afterlife is myself, Andrew McGuire (guitarist), Luke Walkinshaw (drummer) and Tristan Edwards (bassist). We've all known each other for quite some time, mainly from the local music scene, and in late 2017 myself, Andrew and Luke decided to start playing music together and Afterlife was born!
Personally, as a historian, I have an interest in etymology, so I feel have to ask about where the band name came from and if it has any special significance…
The name "Afterlife" came from us wanting to create something that would continue to be around after we we're gone. The name does carry a religious and spiritual tone traditionally, but for us it was just a cool sounding name for us wanting to create music that hopefully would live on past our personal lifetimes.
Music is categorized into various genres and sub-genres. How do you feel about being categorized into such pigeonholes, and how would you yourselves define your sound?
We've never really looked too deep into what people classify the band, because at the core we are a metal and hard rock band, and we know that, but we do bring in elements of like electronics, modern hip hop etc to further develop our own sound. If someone wants to call it nu-metal, etc, then so be it – as long as they're listening!
Following on from that, what individual and collective influences do you draw on for your sound?
We really like music that makes you FEEL something, so for us it doesn't have to be metal or rock. We all listen to so much music, so if we can find ways to incorporate it into the songs then we absolutely will. But, more traditionally, we are influenced by bands like Slipknot, Linkin Park, Korn all the metal and nu-metal greats!
The reason we're doing this feature is because you've got a new album coming out. Can you tell us a bit about it? Are there any particular issues you are addressing on it?
'Part Of Me' is a VERY special and important album to us, probably some of the most personal material to date for the band. "Part Of Me" is anger and frustration; "Part Of Me" is heartbreak and loss; "Part Of Me" is fear and uncertainty; "Part Of Me" is perseverance and desire; "Part Of Me" is growth and realization. These were all feelings that we were feeling during the creation of the album – and we're sure many others have experienced in their lifetime.
Similarly, the album's artwork has a significance in terms of its content, and the experiences the band members were going through during the writing and recording processes. Can you tell us a bit more about that, and what is behind some of the imagery you have used?
I really liked the idea of the artwork being a "collage", as in a collection of feelings and emotions coming together to create one whole image, so I used the colours red, blue, black, yellow and grey because I felt those represented the emotions I was feeling the best. I cut them all by hand, burnt, textured each piece of paper, and slowly built the collage. I wanted the artwork to feel REAL and the only way I think it would have been possible was to create it myself, so I did, ha ha!
Sort of leading on from that, we obviously need to address what continues to be the biggest elephant in every room in the Überverse, and that is Covid… how did it affect you in terms of writing and recording the new album, and did you have to change the way in which you approached the process?
We were in the studio in March of 2020 and about three weeks into recording the album when we were urged to put it on pause and return home safely, because we were recording the album in Los Angeles and at the time it was being evacuated, in a sense. I was living there so all the guys were scrambling to get on planes and get home. At that point we were left to finish the album in pieces in a safe setting, via Zoom or remotely with our producer.
We finally got back into a room together in May of 2020 in Florida and started working again, and eventually finished the album back in Los Angeles in October of 2020!
The ongoing pandemic, and continuing lockdowns, have made it extremely difficult for bands to get themselves noticed, particularly in the absence of live gigs. Social media therefore has played a much bigger role than maybe it has until the pandemic hit. How important are tools like Facebook, Instagram, etc., to you in terms of reaching out to, and interacting with, fans and winning over new ones?
It's incredibly important for us anyway, we have done everything in our power to stay connected with our fans in any way possible, including a special Facebook group where we chat with everyone daily, Instagram, Twitter: they've have all been good tools for keeping our fans excited and engaged even when we are not touring. It also helped me keep a feeling of purpose while we were going through the pandemic, talking to the fans and seeing how they were dealing with it too; it allowed me to hang on and see the light at the end of the tunnel.
Streaming media, such as Spotify, has also a lot more important too many bands in terms of getting their music out there. However, the financial returns for streaming can mean a band doing a lot of work for relatively little reward – i.e., you earn very small percentage returns, with the services themselves taking large chunks of your potential income. Is it worth the effort, or is it a fact of the business that you just have to accept?
It's something we've come to terms with. We all have jobs on the side so we are still working regardless of a quarterly pay-out, ha ha. I think it's a necessary evil that we all have to deal with, but I have no complaints.
A lot of bands have gone down the live streaming route. And a lot of them are charging their fans for watching the shows. I know there are pros and cons to "free" versus "pay per view", but as a young band I'd be interested to know if, in the current situation, it is more important for you to get your music out there than to make money, out of doing so? I guess the point I'm making is "is it worth some short-term pain for long term gain"?
The idea of the livestream was brought to us a few times, but it never ended up working out. Our live show is a very important part of the band, and I don't think we would be able to show case it correctly over a live stream. In the future, maybe, but we are saving that for a live stage when touring resumes.
I guess that's enough of the doom and gloom about financial travails, etc… As we mentioned above, you've a new album coming out later this month. So, bearing in mind that the situation in the ÜS is slightly different to here in the ÜK, have you any touring plans to support its release?
We have some awesome things already announced! We will be playing an album release show on 15 August in our home town, as well as a festival called Rebel Rock in Orlando, Florida with Machine Gun Kelly, Limp Bizkit, Papa Roach, and many more. So, we will be out there giving these songs the attention they deserve… plus a few unannounced things!
And any plans to hit the ÜK whenever travel restrictions are lifted?
We actually have a tour booked for May of 2022 there!
Sweet. We'll bring those dates to our readers as soon as they're announced. OK, now a bit of fun, and a couple of quick-fire "out there" questions to give us a wee bit of an insight into your personalities (and apologies if there are any veggies in the band):
Burger King or McDonald's? Burger King ALL DAY!
Twitter or Instagram? Twitter is so much more fun. ha ha.
Coke or Pepsi? COKE! Who drinks Pepsi?
Salted or sweet popcorn? 100% salted!
Favorite flavor of ice cream? Vanilla or Chocolate
Pineapple on pizza? Absolutely! It's one of the best toppings
A final few questions:.. when live gigs are finally fully up and running again, with no social distancing in place, and you have your choice of any bill to be a part of, who would be the three other bands (signed or otherwise) you would choose?
I would love to play with Architects, Normandie and I-Prevail! I think that would be an insane line-up.
As you mentioned, you're playing the massive Rebel Rock festival in Florida in September: if one other artist on the bill was to come on stage and jam with you, who would you like it to be?
WES BORLAND of Limp Bizkit! He could do literally anything during our set and I would allow it, ha ha.
Finally, imagine you're headlining somewhere like Madison Square Garden: what is the most OTT thing you would put on your rider?
A baby kangaroo, ha ha. Like, how awesome would that be? Hang out with it before hitting the stage? Sign me up!
'Part Of Me' is released this coming Friday (13 August). You can get you copy HERE.
All content © Über Rock. Not to be reproduced in part or in whole without the express written permission of Über Rock.