By Jonny Bakes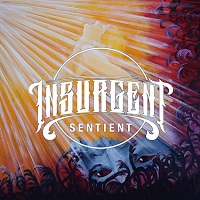 Birmingham is a city that holds a pretty special place in my heart. Not only did I live there for five years, but my adventures with the Aston RockSoc during that time are definitely a contributing factor to my, err, eclectic music taste. As a result, I still find myself with a bit of an affinity with the Birmingham music scene (I mean, it is the 'Home of Metal' after all) to the point I find myself drawn to bands from the area when they pop up at ÜRHQ. When such a band also claims to incorporate elements of prog metal too, I couldn't resist…
Insurgent may be young in years but their music certainly does not sound like that which has been created with inexperience. So, it should be no surprise that, in their relatively short career to date, Insurgent have toured as far afield as Ukraine already! Which is pretty fitting really, as one of the comparisons that quickly came to mind on first listen is Jinjer so perhaps that was a very intentional tour stop? All of this touring experience comes together in the form of their fantastic debut EP 'Sentient' which is something I'm unashamed to say that I pre-ordered on Bandcamp within minutes of pressing the play button (it was released on Bandcamp Friday, so it would have been rude not to).
So, it's pretty clear that I loved this EP – but I'm assuming you'd like to know why, so let me tell you… Everything about the mixing and mastering sounds like an A-list release, all of the instrument tracks are clear and this allows the progressive elements to really shine through. But particularly it brings the strong emotive vocals of Kate Teitge to the forefront, who has a really clear voice that I guess you could compare to Hayley Williams to get a rough idea of what we're talking about here.  There's vibes of TesseracT in the music as well, which is bound to grab the attention of most self-respecting progressive metal fans out there.
Opening track 'Zero Sum' is easily the one to look out for as it will grab your attention from the first few notes and blow you away with the combination of technical musicianship and hauntingly beautiful vocals. It's a track that quickly found its way into my regular listening playlist and, quite frankly, sold the EP for me. It's a force to be reckoned with – but, beware, you may find yourself reaching for your wallet when you listen to it!
For fans of Jinjer, TesseracT and just technical musicianship in general, 'Sentient' is something that deserves a cursory listen at least. With any luck you'll also find yourself as hyped about Insurgent as I have as a result! All I can say is that I can't wait to get myself back down to Birmingham and hunt out a live Insurgent show to get the full 'Sentient' experience!
'Sentient' is out now. You can get your copy HERE.
www.facebook.com/InsurgentBand
All content © Über Rock. Not to be reproduced in part or in whole without the express written permission of Über Rock.