By Monk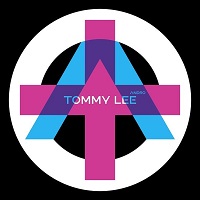 It says a lot when an album all but relies on the notoriety of its creator to garner any form of interest in the resulting product. Even more so when its release comes complete with a childish and cringe-worthy "publicity stunt" involving the wife of the artist concerned allegedly trashing her husband's favourite Rolls Royce by emblazoning it in the rather garish artwork of said album.  But, that is exactly the strategy the geniuses behind the PR campaign for the launch of Motley Crüe drummer Tommy Lee's latest solo album came up with… and, to be honest, and speaking as someone who has worked in PR for the best part of 25 years, if that was their best effort (especially when you consider that the impact of said "stunt" was completely watered down by the inclusion of the car in one of the promo videos) then they're vastly overpaid and underworked… whether or not this bright spark idea subsequently translated into justifiable bucketloads of album sales remains to be seen…
Now, there is no doubt that Lee has always been one of rock 'n' roll's more colourful characters, and an artist who has never been afraid to push the envelope, at least outside the confines of the band with whom he first established his notoriety as an extrovert and showman on a par with PT Barnum… but, with 'Andro' I have the feeling that he has pushed that envelope just a tad too far, producing in the process what quite possibly will prove to be the most divisive album of his career.
Because, what one of THE bad boys of heavy metal has gone and done is produce a fucking hip hop album, doing so with the help and collaboration of some of the rising stars of the r'n'b and rap scenes, such as internet sensation Killvein, Pussy Riot collaborator Push Push, Brooke Candy, Lukas Rossi and King Elle Noir. Post Malone – you know, thon dude who last year was singlehandedly responsible for reviving Ozzy Osbourne's career – even manages to make an appearance, albeit on the remixed bonus track appended to the end of some versions of the release.
To be fair, the album starts off well, with the hard edged and catchier than a dose of the beer bug in a student dorm industrial nu-metal vibe of lead single 'Knock Me Down', on which Killvein advises that we "better open up that motherfuckin' mosh pit". But, that's as far as the album's rock/metal credentials extend – well, apart from a brief interjection from Lee's friend, and Buckcherry frontman, Josh Todd, who actually manages to refrain from swearing as he gives us his best Pee Wee Herman impression and some totally ludicrous and inane instructions on how to make a 'Hot Fudge Sundae': this latter is just the sort of thing that actually makes you question your sanity and your reasoning for pressing "play" in the first place…
'Andro' very quickly takes on a sub-Prince feel with 'You Dancy', a vibe which is most obviously repeated shortly afterwards with a cover of the maestro's 'When You Were Mine' (although, on this evidence, I have to, reluctantly, admit to preferring Cyndi Lauper's interpretation). For the rest of the album, well, maybe it's just me, but I can't help get the feeling that if it hadn't been released under Tommy Lee's name then it would not receive half of the attention it doesn't actually deserve, but rather have been dismissed as a second-rate hip hop/r'n'b/Prince rip-off.
As I said, maybe it's just me, but that's what it sounds like to me and I've never been so glad to hear the sound of silence that signifies the end of an album. I certainly won't be rushing to repeat this extremely painful experience anytime soon: in fact, I think I'd rather have my colon removed through my nasal passage, without the aid of anaesthetic, than allow myself to be subjected to another listen. Sorry Tommy, but I'm away to dig out my copy of 'Shout At The Devil' and remind myself what you were once capable of…
'Andro' is out now. You can get your copy HERE.
All content © Über Rock. Not to be reproduced in part or in whole without the express written permission of Über Rock.