By Monk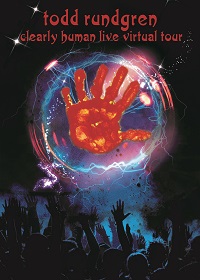 I vividly remember the first time I came across the idea of a "virtual tour". It was during a typically in(s)ane interview with those Midlands maniacs Evil Scarecrow back in November 2015, when it was suggested that these particular members of metal's lunatic fringe should undertake their next tour without leaving their hometown of Nottingham, instead flying fans in from all corners of the Überverse to enjoy the show and then let the band enjoy the comfort of their own beds each and every night… Little did we know that, five short years later, the whole dynamic of the global "live" music scene would have changed dramatically (and possibly forever), making events such as "virtual tours" almost de rigeur for artists attempting to bring the experience of a live show into their fans' living rooms…
So, while Todd Rundgren's approach to this "new normal" in terms of interacting with fans may not be an entirely new concept, and numerous bands have undertaken brief sojourns into this aspect of the "virtual" realm, his is certainly the most ambitious yet, with a total of 25 dates starting in Buffalo, NY, on Valentine's Day and finishing in Seattle five weeks later, with each show tailored to the ÜS city (tonight it's the Big Apple itself) in which they supposedly would have been playing, but all without Rundgren and his band leaving the same stage in Chicago.
Always being a man with a sense of the grandiose and the OTT – we are, after all, talking about the producer of one of THE most grandiose and OTT, not to mention iconic, albums of all time – there was no way that Rundgren was going anything less than full-blown with his response to the changed global circumstances. No sirree, Todd. Each of these shows is presented in full-blown technicolour propensity, coming as they do with songwriter accompanied by a fully zoot-suited seven-piece band, including horn section, plus three female backing singers, emphasizing the soul-funk-rock vibe of the album at the centre of these rather eccentrically brilliant shows, 1989's criminally-overlooked (at least by many critics, including myself at the time) 'Nearly Human', from which eight of its ten tracks are featured (with '2 Little Hitlers' perhaps understandably omitted).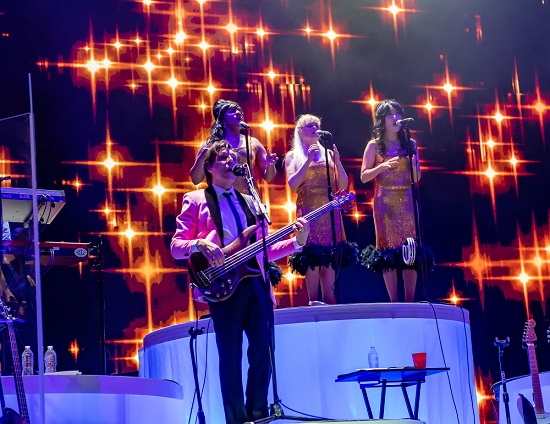 With just 19 genuinely paying and socially distanced fans actually allowed into the venue proper (at a ticket price of almost $290 each for the privilege of sitting in between screens showing virtual attendees), there is some attempt to build a genuine "gig" atmosphere (much like they have been doing with televised sporting events, but without sounding anywhere near as cheesy and unauthentic) before the stage lights slowly go up for tonight's show and Rundgren conducts, quite literally, the band through the musical theatre evocation of opener 'Real Man'. The sense of faux authenticity is accentuated during Rundgren's first between song commentary, when he fondly recalls his years spent in New York and how he would have loved to be looking out over the city's iconic skyscraper-filled skyline, before wryly adding "what's he talking about", in a nod to the virtual and remote nature of the show and delving straight back into the music. In a later, typical self-deprecating moment, he takes the gig towards its halfway point with 'The Smell Of Money', a reference to his "career as a failed Broadway composer…": genius stuff!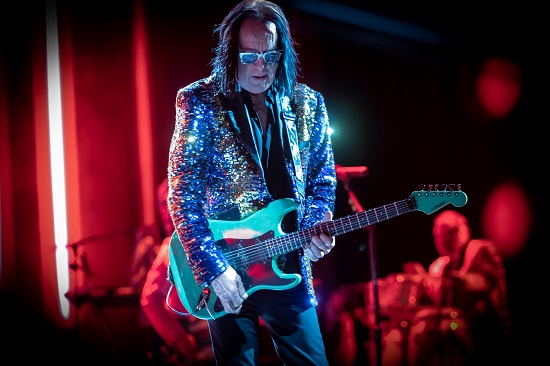 It has to be said that Rundgren has truly lived up to his promise to make this a virtual experience like few others. The production values are exemplary, with every last attention to detail given full consideration, from the lights and the visual backdrops to the clarity of the sound, and the man himself gives no indication that this is as far removed from a "live gig", in the truest sense of the words, than it could be possible to imagine, commanding the stage with the ease of the consummately professional and practised leader that he is, as well as an artist who has responded to changing circumstances in the most innovative and productive ways.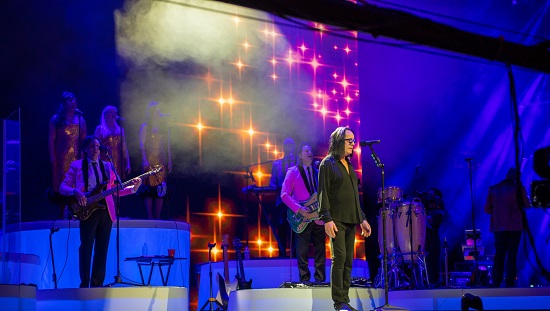 Yes, the only criticism, outside of it being very much like watching well-produced DVD of the concert presentation of a one-man Broadway musical – although it is always worth bearing in mind that this is a real, live performance, with no opportunity for overdubs or other post-production studio trickery – may be that the setlist is very firmly rooted in the Eighties… but you know what? Nostalgia has become extremely important in these trying times, and when memories of what has gone before are sometimes all that we have left, then shows us this like remind us that those memories are important, vital and alive – as important, vital and alive as the music itself, and this is exemplified by shows as important and vital as these… and, hey, if a guy in his seventies, arguably at the tail end of his career, can rise to the challenge of changed, and continually changing, circumstances, and do so with such aplomb and commitment to the future of the music business as a whole, then do we need any further evidence of the continuing, and eternal, importance and vitality of music in our lives?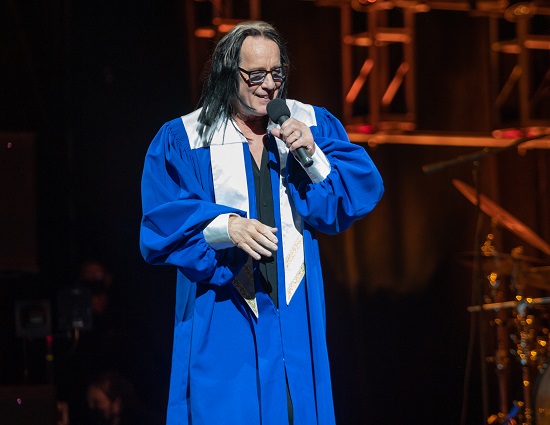 Todd Rundgren's 'Clearly Human' Virtual Tour continues until 22 March. You can find full dates, and get tickets, HERE.
Photos © Jim Snyder.
All written content © Über Rock. Not to be reproduced in part or in whole without the express written permission of Über Rock.