By Jolee Flatman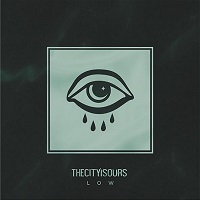 THECITYISOURS are a five-piece, melodic metalcore band formed in London. They have become recognised amongst the crowded market, through high amounts of praise for live performances and supporting well-established bands, such as Malevolence. Pre-released track, 'Bare Bones', taken from the upcoming album, has already injected high expectations and excitement into fans. There is no mistake in saying that this track alone, has been a success. Before reviewing the album in its entirety, 'Bare Bones', has been a track which has made it into my newly discovered playlist, and it should be in yours too. 'Low' is a promising album for these guys, one which may not be loved by everyone, but one which could create a steppingstone for greater recognition. For fans of Invisions, Beartooth and Our Hollow, Our Home.
Analysing the album as a whole, some sections demonstrate that the band are new blood on the block, and to keep an eye on. Alternatively, other sections are just not unique enough, to really give them an edge and to stand out. The vocal style, being a combination of aggressive lows, with clean vocals and catchy choruses, makes the album an easy listen. It does not require too much attention, or focus. However, this is not to suggest that the album lacks any depth or meaning. In fact, the album has been constructed to encode messages of struggle, pain and vulnerability. 'Low', encodes ideologies on topics such as mental health and self-bereavement. Mikey Page has openly discussed that the album has been produced in a way that empowers the ideology that it is okay to be vulnerable and honest about emotions.
My top three picks from the album would be 'Bare Bones', 'Casket' and 'Incomplete'. Second track on the album, 'Casket' packs a punch, with aggressive tone and multiple explosive breakdowns. 'Incomplete', is later on, providing a filthy breakdown with many BLEGHS. However, this was short lived, and the chorus shortly returns – which is slightly disappointing, as more could have been done here to push the song to greater complexity levels. At the end of the day, if a band can produce a song that has a solid, memorable breakdown, it will be highly appreciated by those who dig the metalcore genre.
Furthermore, 'Veins' is a track that is unique from the rest, but not necessarily for the best reasons. Opening with a distorted ringing in the background, which eventually builds up into a melodic riff, and clean vocals. Compared with the previous tracks, this opening was different, and in a good way. This particular section is repeated towards the last quarter of the song, and again at the very end. Creating a circular narrative theme. Personally, it was refreshing to begin with, but repeating it more than twice, made it become somewhat over-used.
'Low' is an album that some will love, and others may overlook. However, whether it is just one song, someone who is into the metal music industry, will be able to take something from the album.
'Low' is released on 2 August. You can get your copy HERE.
www.facebook.com/TheCityIsOursUK/
All content © Über Rock. Not to be reproduced in part or in whole without the express written permission of Über Rock.