By Jim Rowland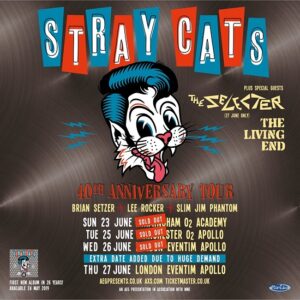 Rockabilly legends The Stray Cats have reformed a few times over the years, but this time round, armed with their first new album in over 25 years and a tour marking the band's 40th anniversary, there seems to be a renewed buzz surrounding the Stray Cats once again. Tonight, an incredibly strong bill promises to see the last date of the UK leg out in style.
The Living End have been around for a number of years themselves, and may be a bit better known in their native Australia, but the reception they receive tonight shows they have a solid following over here too. And that's purely down to the fact that they are a great band. Their fusion of rockabilly, punk and hard rock is a potent mix, and like many Australian bands before them, their music seems to pack an extra-large set of balls. The fact that they can move from the turbo-charged punkabilly of 'Death Of The American Dream' to the groove-laden classic rock of 'How Do We Know' is impressive, as is their musicianship. They deliver a concise and captivating set from start to finish, which is hugely enjoyable.
Like the Stray Cats, 2-Tone legends The Selecter are also celebrating 40 years this year, and also like the Stray Cats, they've had a few splits and reformations along the way. Original members Pauline Black and Arthur 'Gaps' Hendrickson are a formidable duo fronting the band, ensuring they deliver a commanding performance. 40 years ago a bill featuring the Stray Cats and The Selecter may well have been asking for trouble, but these days it's a combination that turns out to work very well. Kicking off with the classic single 'Three Minute Hero', the Selecter are in full swing from the off with a set mainly relying on the early era of the band, although 'Breakdown' from the relatively recent 'Subculture' album proves they can still write a quality tune. Still, it's the likes of 'Danger', 'Train To Skaville', 'On My Radio' and an outstanding 'James Bond' that really get the crowd going and singing along, before 'Too Much Pressure' seguing into 'Pressure Drop' round off a superb set.
Like The Selecter, the Stray Cats are not just about the old classics, as proved by their new album '40', which has been very well received since its release a couple of months back. The likes of opener 'Cat Fight', 'Mean Pickin' Mama' and 'When Nothing's Going Right' from that album rank right up there with the older material on display tonight, such as 'Sexy &17', 'Blast Off' and 'Fishnet Stockings'. Classic single 'Runaway Boys' makes a surprisingly early appearance, as does 'Stray Cat Strut', nestled in a set that spans the Cats' career well. I've never seen the Stray Cats before, and one thing I was looking forward to was simply seeing Brian Setzer play the guitar. He may not have the towering Marshall stacks or a huge array of effects pedals, but this man is every bit the guitar hero, taking it right back to the pure essence of rock 'n' roll guitar. That's of course taking nothing away from Slim Jim or Lee Rocker, who does a great job taking on the lead vocal  on a couple of tracks. 'Rock This Town' closes the set in rousing fashion, before the new, 'Rock It Off', meets the old, 'Rumble In Brighton' for an encore that sums up a triumphant performance.
Three great bands, one great concert.
All content © Über Rock. Not to be reproduced in part or in whole without the express written permission of Über Rock.