By Rich Hobson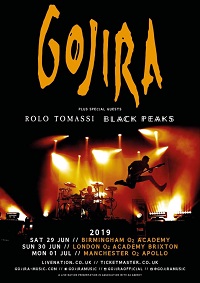 "Who's bright idea was it to put the heaviest band on the planet on, on the hottest day of the year?" It's a fair statement from a friend, especially considering Birmingham's O2 Academy can be a sweaty bastard at the very best of times, let alone when 4000+ excitable metal fans are crammed in to see legitimately one of the most vital bands in metal right now. Yes, Gojira are back again, this appearance feeling like a swansong for the album which has transformed them from one of metal's more well-regarded cult phenomena into an act that can headline a festival and feel like they should have been there all along. It's crazy really – thinking back almost four years to the day to the release of the utterly sublime 'Magma'. Recognised as a massive step-up from past efforts (though none of them should be sniffed at either), 'Magma' has seen Gojira play to arena crowds (as somewhat mismatched support for Alter Bridge), headline Bloodstock festival in the UK and take their ambitions to a whole other level.
Of course, they aren't the first band to have gone out on the road relentlessly in the wake of a highly regarded release (in fact, quite bitterly I remember seeing Machine Head decline through attrition whilst supporting 'The Blackening'), but Gojira might be the first to feel bigger and better every single time they come back around. It's only been a couple of years since they last played this venue (sold out then, too), but the excitement for seeing them back is palpable, not hurt in the least by the fact that the band's hard work has been recognised by a much-sought spot on the Glastonbury line-up; an absolutely staggering feat for a band as resolutely heavy as Gojira. Arriving in Birmingham less than 24 hours from that show, you can't help but feel like this is the seismic band the heaviest sides of metal have been waiting for, a new act ready to take those steps up to arena level.
First up though, its time for some homegrown talent in the form of the unpredictable – yet reliably brilliant – Rolo Tomassi. Much like Gojira themselves, Rolo Tomassi's latest record felt like an affirmation of everything the band had strived to achieve over a decade-plus career, pushing boundaries and firmly establishing themselves on metal's bleeding edge in the process. 'Time Will Die and Love Will Bury It' was something of a reboot for the band, taking their established style and giving it a kind of refinement that cut to the heart of what Rolo Tomassi do, so its not surprising that tonight's set leans very heavily on the record (with only 'Funereal' coming from another release – its predecessor 'Grievances'). Even when partnered a band as transgressive as Gojira, Tomassi are something else – the whiplash-inducing changes of pace in set opener 'Rituals' signalling that something very vicious and brilliant is happening on-stage and the audience not already in the know are in for an awakening.
Flitting across Dillinger Escape Plan style erratic energy and haunting, introspective melodies (paired to one of the heaviest vocals in the biz thanks to Eva Spence), Tomassi feel utterly at home on a bigger stage, filling every inch of the room with their aural acrobatics. There's a smattering of mathcore here, a jazzy post-rock breather there and unbridled fury throughout as the band howl their way through 'Funereal' and 'Balancing The Dark', the electronic notes of the latter lending an almost Kubrickian sense of abjection to proceedings that puts every cell in the body on edge. Its thrilling to hear and glorious to behold the band making full use of the space available, Spence prowling the stage in the time-honoured traditions of hardcore like she is ready to defend her territory with every last breath should it come to it. Considering just how heavy the band get, its not surprising to see people pulling faces of astonishment and total confusion when clean vocals come through, the sweet melodies sailing from the same source that not 40 seconds earlier was splitting the skies with piercing hatred.
Rolo Tomassi play the 2000 Trees festival in Cheltenham on Friday 12 July, The Joiners in Southampton on Saturday 13 July and The Forum in Tunbridge Wells on Sunday 14 July. They also play the Garage in Glasgow on Friday 2 August and the Radar Festival in Guildford on Saturday 3 August.
The room is positively heaving by the time Gojira take to the stage, the dainty fretwork of the intro to 'Oroborus' a gentle lead-in to a set that feels like watching a great white shark hunt in a fishbowl. Gojira have evolved to such a point that the question of arena tours isn't "if" but "when" – and two basically sold-out runs on the bounce will surely get the wheels greased for their next run in the UK. Throw in the fact that the band sound utterly monolithic, their sound exploding with clarity like it is being played from within the listener's head and the shape of something very special starts to take shape.
Gojira don't particularly need stagecraft – their music is adventurous and expansive enough that it can carry the set entirely on its own – but it hasn't stopped the band utilising both distinctive lighting and video screens to convey an experience which isn't a million miles from seeing prog metal masters Tool live. The band also make use of a very liberal dousing of stage smoke (enormous plumes blasting up to the ceiling as they play – thankfully they leave the pyro at home, which in these temperatures feels best) and even a confetti canon to show they won't be beat when it comes to theatrics, but the real winner is always the music they play. 'Backbone' is an inexplicable anthem backed by a blast-beat and it doesn't take thirty seconds for seemingly the whole floor area to turn into a mass of writhing, crashing bodies.
The atmosphere inside the venue is ecstatic and almost reverential, fans roaring along to choruses as they arise. One fan even pulls out an inflatable whale (soon sent soaring across the crowd like the world's easiest crowdsurf) as Gojira pull out 'Flying Whales', that song giving the band a chance to flex their chops as it combines the band's base elements (a seismic riff, almost tribal drumming from Mario Duplantier, blast-beats, snarled growls that can still be howled by a crowd). There is nobody in metal now quite like Gojira, and that goes for the many bands who have taken their influence in their wake. What this band do feels inherently unique to them, a chemistry formed out of having the same line-up for their entire career (as 'Gojira', at least) and being able to seamlessly adapt to whatever madness your bandmates can concoct next. Never mind claims that Behemoth are the next extreme metal band that could go supernova; Gojira are already there, and most definitely deserving of the title when you get to the alien heaviness of 'Love'.
It doesn't matter that 'Magma' is almost four years old – the material still sounds incredible, and you'd struggle to find a better all-conquering anthem than 'Silvera', its chorus of "when you change yourself you change the world" feeling like a direct call to arms from the band. But then, doesn't it all? 'L'Enfant Sauvage' is an absolute beast, uncaged and untamed as it tears apart the neck muscles and legs of anyone in attendance as they bang and bounce their way through the song. Even the drum solo that signals the band's return to the stage for the encore doesn't feel totally superfluous, building into the all-out assault of 'Clone'. By the time the set comes to a close on an utterly staggering 'The Gift of Guilt' – the room filling with stage-smoke creating an unbelievable atmosphere – there is no doubt in anybody's mind that Gojira have completely and utterly owned the evening.
Watching a band on consecutive runs can be something of a risky proposition, each show having to compete with the last, hoping that each set can inject fresh life into something we have seen before. For Gojira, somehow, they have grown bigger and more unstoppable with each performance, reaching a point where it feels like they absolutely must take the step up to arenas next time they come around. After all, so few bands can compete in terms of both musical legacy and unforgettable experiences, Gojira legitimately coming out and putting on one of the best metal shows going right now (if not the best, period). This is a band that has headlined a festival and has learned the lessons of said experience, carrying that enormous crowd and experience over to academies to put something on that nobody will likely forget any time soon. If you're looking for the future of metal, this is it – and it is glorious.
All content © Über Rock. Not to be reproduced in part or in whole without the express written permission of Über Rock.