By Rich Hobson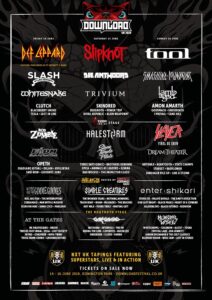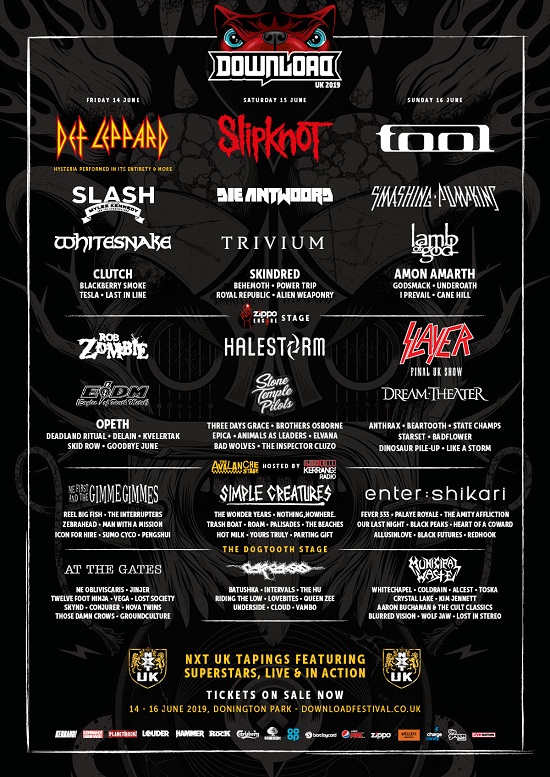 It's that time of year again, where we bust out the wellies and sun-cream (just in case!) and prepare to descend on Castle Donington for a weekend of musical greatness. Download 2019 looks set to not only feature performances by some of our world's biggest and best names, but also give a much-needed bump to some of the emergent stars of the future. With that in mind, here is the second instalment of our three-part Über Rockin' Guide to Download Festival 2019, starting by looking at what is going down across the various stages on the Saturday (15 June)…
One of the largest criticisms levelled against Download 2018 was that the main stage bookings – particularly those on the Guns N Roses day. Largely pulling from the classic rock revival roster, the whole thing felt somewhat add odds with the state of contemporary rock and metal. As if taking heed of those voices, this year seems custom made to draw attention to some of the hottest, most cutting-edge names in rock and metal to such an extent that it's fairly safe to say you'd have a great time just camping out on the main stage all day…
Alien Weaponry (Main Stage)
Originally listed on the third stage, it's a very welcome move to see New Zealand's Alien Weaponry move to open up the main stage. Purveyors of an earthy mix of thrash and traditional Maori beats, Alien Weaponry are a unique addition to the metal scene, providing a cultural education alongside some massive sounding songs. Only on their first album, the band has already earned a fair bit of critical praise, so the opportunity to kick proceedings off and win over a few thousand new fans isn't one to be sniffed at!
FFO: Sepultura, Tengger Cavalry, Wardruna
The Inspector Cluzo (Zippo Encore Stage)
Having already won fans over with their distinctive take on rootsy blues rock when supporting Clutch last year, France's The Inspector Cluzo are sure to be bringing some dirt-flecked grooves to Donnington early Saturday. Download has a long history of creating champions out of bands who have little more than a bag full of riffs and some excellent choruses, so The Inspector Cluzo have everything they need to get the party in full swing.
FFO: Clutch, Royal Republic, Sons of Morpheus
Power Trip (Main Stage)
The great hope of modern thrash, Power Trip have the kind of songs that make you want to kick through walls barefoot and snap your head off banging it as hard as you can. Last seen over on these shores for last year's excellent package tour with Trivium (alongside Venom Prison and Code Orange, ooft), Power Trip could so easily have been relegated to a higher spot in the tents if it weren't for the fact that songs like 'Executioner's Tax' absolutely demand to be heard (and roared) by as big a crowd as possible.
FFO: Slayer, Evile, Municipal Waste
Underside (Dogtooth Stage)
Metal truly is a global phenomenon, with bands from literally every corner of the earth providing their own unique take on the genre. Case in point: Underside hail from Nepal but ply the kind of massive-sounding alt metal-meets metalcore that would do Architects or While She Sleeps proud, big on melody and with a keen eye for enormous choruses. Definitely one to keep an eye on.
FFO: Architects, Tesseract, Black Peaks
Behemoth (Main Stage)
When it comes to blackened death metal, no band has captured the imagination quite like Behemoth. A colossus in the extreme metal world, the band's appointment on main stage promises to answer the question "who will be the biggest extreme metal band in the world when Slayer go away?" because you just can't fuck with albums like 'The Satanist' or 'I Loved You At Your Darkest'. This is gonna be a heavy one.
FFO: Kaoteon, Bloodbath, Satyricon
The Hu (Dogtooth Stage)
Quite possibly the most unique band on the Download 2019 line-up, Mongolia's The Hu follow in the footsteps of bands like Tengger Cavalry in combining traditional, cultural instruments and heavy metal energy to create something fiercely proud of both cultures and heritages. Making their debut without even a debut album to show for it (but a hell of a lot of streams/views online), The Hu are one that you'll likely be hearing a lot about from industry bodies in the not-so-distant future.
FFO: Tengger Cavalry, Korpiklaani, Alien Weaponry
Halestorm (Zippo Encore Stage)
Headlining the Zippo Encore stage for the first time, Halestorm are proof that rock music still has a vitality and life of its own in the 2010s. Having torn their way up the ranks over the years, Halestorm have been a perennial favourite of fans, but now look to finally take their rightful place in the spotlight as one of rock's brightest names, with an arsenal of anthems that will ensure sing-alongs will be in no short supply.
FFO: Guns N Roses, Motley Crüe, Avenged Sevenfold
So, that's our anticipated personal highlights of the second day. Check back tomorrow for our preview of the final day!
All content © Über Rock. Not to be reproduced in part or in whole without the express written permission of Über Rock.