By DJ Astrocreep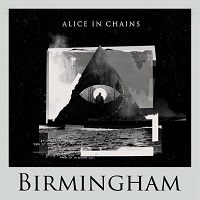 Alice In Chains, a stalwart of the grunge and alt-rock scene, back on UK soil? It was pretty much a given I'd be interested in seeing them, so an almost two-hour train journey later, it was time to meet up with a couple of friends and head on over to the venue.
A single support in Black Rebel Motorcycle Club was enough to pique my interest, having caught them once before, at Milton Keynes Bowl, supporting Pearl Jam, so they have definite previous for playing this sort of support slot. They take to the stage with a minimum of fuss and get straight into the set with 'Red Eyes And Tears', to an overall minimalist response from the audience, though as I look around all eyes do seem fixed upon the three-piece, as they nail each song. This does pick up gradually as BRMC work their way through their eight song set, with songs such as 'Beat The Devil's Tattoo', 'Berlin' and 'In Like The Rose' garnering a better reaction pretty much by the song, to the point there is a pretty good reaction from the swelling crowd by the time penultimate track 'Stop finishes'. Peter Hayes looks to the sound desk asking if there's time for one more – which luckily there is, so they get to launch into crowd-pleasing hit 'Spread Your Love', which has people singing and dancing away around the arena. It's a pity there isn't time for other stalwart hits such as 'Whatever Happened To That Rock N Roll', but hearing a different set is a positive and enjoyable experience.
A brief interval later, it's headliner time and a short intro later, Jerry, William et al take to the stage, with Jerry quickly launching into 'Bleed The Freak', the crowd going wild from the very first note. 'Check My Brain' and 'Again' get similar responses before we head into our first track from latest album 'Rainier Fog' in the form of 'Never Fade', the crowd appreciating this almost as loudly as the older, better-known tracks – though there are certainly plenty singing along to this, too. The band are on excellent form, if a touch slower than on record, with their energy being repaid in abundance by the loud and boisterous crowd, with a small mosh pit breaking out, even, to some of the heavier and quicker tracks, while video screens that double as part of the lighting rig, depending which way they're facing, giving further depth to the performance. We shift back to the old school again next, as 'Them Bones' and 'Dam That River' get the crowd jumping again, before later track 'Hollow' keeps the spirit going. A change from previous sets next means we get a very welcome surprise in 'Heaven Beside You', delighting the crowd, very much including my friends and I, as we head further into the set.
Title track 'Rainier Fog' from the latest is performed with aplomb next, as we head into two of the slower older tracks in 'Down In A Hole' and 'No Excuses', fantastic sing-alongs that the crowd get utterly into before we hit another couple of newer ones in 'Stone' and 'Red Giant'. The crowd are getting breathless at this point – well, I am, at least, as we head into 'We Die Young', knowing there are still a few songs left before the encore even, though this slows right down as Jerry dedicates the next song to fallen brother Layne Staley, as they ease into 'Nutshell' – any Alice In Chains fan will have seen the MTV Unplugged version and had shivers, so this resonates around the arena, with the crowd eagerly anticipating the first high pitched vocals, bringing encouraging words from the band. 'Angry Chair' and 'Man In The Box' follow to close off the main part of the set.
A brief break sees the band come back to the stage, with drummer Sean Kinney coming to the forefront, addressing the crowd briefly before taking back to the drums, before the band take to 'The One You Know', our last track from 'Rainier Fog', before a trio of golden oldies in 'Got Me Wrong', 'Would?' and 'Rooster' brings the house down in the best possible style. My voice is going slightly at the end, I definitely feel winded after belting out almost every track along with the band and I don't care, because it's been an evening of incredible rock 'n' roll. Long may they continue.
www.facebook.com/aliceinchains/
The tour concludes at the SSE Arena in Wembley tonight (Saturday 25 May).
All content © Über Rock. Not to be reproduced in part or in whole without the express written permission of Über Rock.