By DJ Monk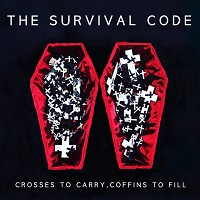 Following the ongoing trend for two-piece bands who make a big noise, London duo The Survival Code could be perceived as being a miserable pair of hallions. After all, their last album, last year's 'Hopelessness Of People' didn't exactly have the most joyous of titles – and this follow up EP follows an equally morbid path in terms of providing an initial impression. Which is a real shame, and evidence that you should never judge a book (or a CD) by its cover, as this is actually quite a cheery little offering, and an extremely pleasant listen to boot.
Initial sonic references immediately mark down the likes of Biffy Clyro and Royal Blood, with the combination of thumping rhythms, stop-start guitar riffs and melodic vocals, together with catchy choruses and hugely hummable harmonies. New single 'So Serious' explores more pop punk/power pop territory than the two opening tracks, with its staccato riff and verse construction – but, that's not a bad thing, as it is the sort of track that could break them through in terms of radio airplay.
Overall, the five tracks on 'Crosses To Carry…' present a very pleasant listen. I'll admit to not being familiar with the band before slipping this into the death decks at ÜRHQ, but it intrigued me enough to make me want to find out more and explore their back catalogue. And, on the strength of what I have heard, TSC have the potential to be serious contenders in terms of both airplay and live popularity. They're operating in that alt-rock field that is over-populated with unworthy contenders for wider media attention, but these two lads do just enough to, hopefully, make the flag they are waving hoist itself just a little higher and declare their presence with confidence
'Crosses To Carry, Coffins To Fill' is released tomorrow (Friday 16 August). You can get your copy HERE.
www.facebook.com/thesurvivalcode
All content © Über Rock. Not to be reproduced in part or in whole without the express written permission of Über Rock.