Words by Rich Hobson. Photos by Emily Coulter.

It's a bright and early start to get to Catton Hall on Friday, kicking off Bloodstock 2019 good and proper. We kick our day off in the Sophie Lancaster tent, absorbing the epic heavy metal stylings of Control The Storm. Stylistically sat somewhere between symphonic, power and plain ol' heavy metal, the band bring along some big tunes to kick the day off, their sound much more ambitious than the tent environs would suggest. To top things off, the band bring along their own pyro to really kick things up a notch, not-so-subtly signalling their main-stage ambitions whilst backing up the blasts of flame with some even brighter blasts of pure metallic goodness.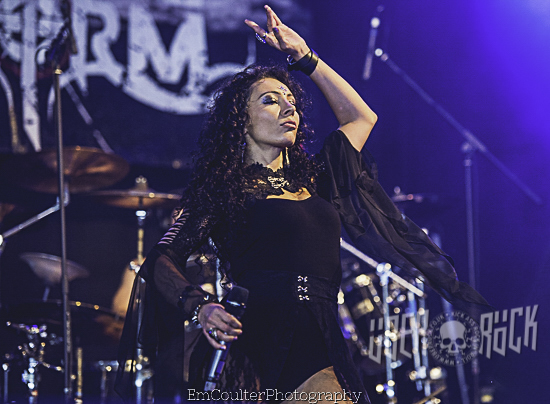 Thrash is back in a big way for Bloodstock 2019, the line-up stacked with golden oldies and furious newcomers alike. And still somehow nobody manages to do it nearly as well as Death Angel, the perfect example of why nobody does it quite like the Bay. It's all a bit too short and sweet for our liking, especially considering Death Angel could probably headline one of the tents and fill the setlist wall to wall with absolute bangers. Opening on 'Thrown to the Wolves' and tackling material from across their career, Death Angel have a sense of groove and power that so many thrash bands fail to capture, ably demonstrating why they have never fell from being on top of the game.
Picking up where Pantera left off, Def Con One show off some serious musical muscle across their set, producing high-energy vibes whilst delivering a relentless barrage of riffs, riffs motherfuckin' riffs. Bringing that old school power to the party, Def Con One are enormously enjoyable and incite a similar level of stomp-along intensity as scene heroes Raging Speedhorn, suggesting there's a bright future lying ahead. Get some songs up on streaming platforms though, lads.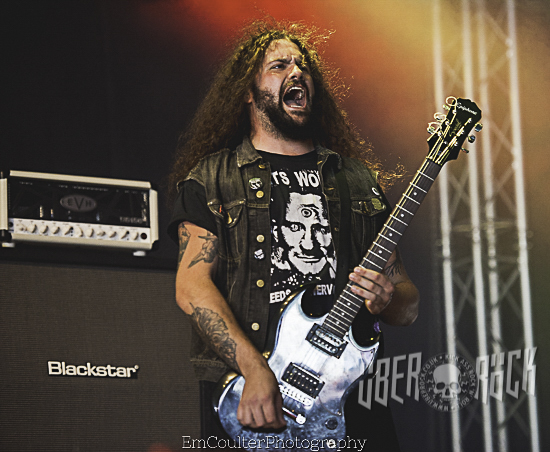 It might be groovy, but BongCauldron offer a very different shade of metal to their predecessors. Perfectly suited to the darkened environs of the Sophie Lancaster, BongCauldron's fusion of stoner and doom crashes like a constant tide of fuzzy goodness, washing over the audience in a relentless sea of noise. In fact, the fuzz is so intense it actually serves to completely bury the low-end at times, something that doesn't necessarily gel with their doomy leanings. Still, the band's mixture of thunderous doom and Conan-like extremity proves to be a winner. It's an especially bittersweet experience considering this is essentially the band's last show (for now), but it doesn't stop it being massive amounts of fun, if such a thing exists in doom.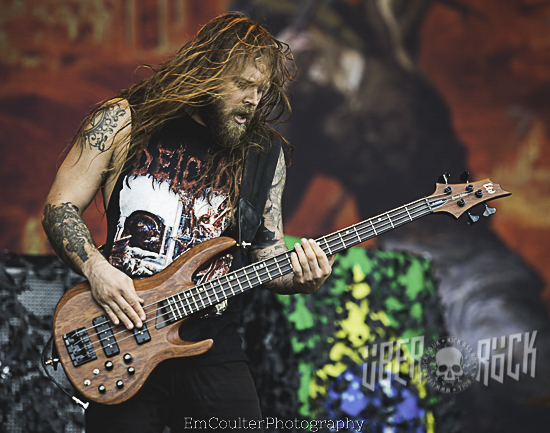 In 1989 Max Cavalera emerged onto the metal scene as frontman for the brilliant Brazilian thrash/death metal troupe Sepultura. 30 years on the primal fury stays the same, though these days Max can be seen with the hard-hitting Soulfly. If you've ever heard any of Max's bands, you'll largely know what to expect from this set – powerful drumbeats, roared vocals and songs that can level audiences twice this size. 'Prophecy', 'Babylon' and 'Ritual' fly out thick and fast to show that Max has learned his lessons from one of his favoured bands Motorhead, letting the songs do the talking and slamming headlong into each song with pigheaded determination. This Motorhead-worship even stretches to leading a chant of 'Lemmy!', though Cavalera also leads a singalong for 'Get Up, Stand Up'. Throwing water on the crowd feels a bit redundant mind, considering half the audience just went through Poseidon's arsehole.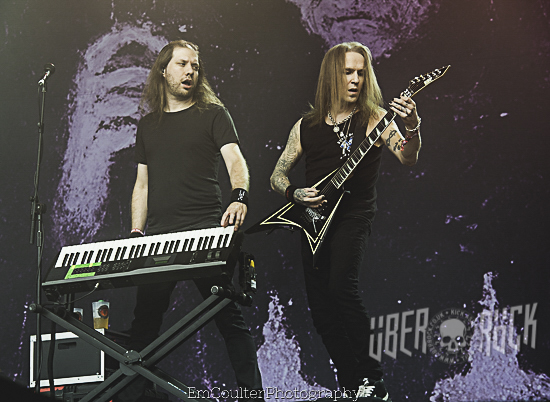 Children of Bodom have clawed their way back to the forefront of the European melodic death metal scene with their latest record 'Hexed'. Leaning heavily on the record and throwing in a few fan favourites for good measure, the band's set feels like exactly the kind of thing that this band need to put themselves at the forefront of people's minds when talking continental metal, which makes it all the more frustrating that the weather seems determined to rob their sound of any potency. Intro tapes blare clearly while the actual instruments feel like they are played at half volume, meaning the brilliance of 'Are You Dead Yet', 'Angels Don't Kill' and 'Hate Me!' is somewhat understated. Don't let that detract from the band's performance though – CoB absolutely slay it with their energy and craft, suggesting a headline tour needs to be set up pronto.
Widows are a force of visceral fury live, their stoner/sludge mix sped up and fed through a sparking blender to produce something that feels closer to the grind of latter-day Napalm Death or d-beat act like Halshug. Of course, at other points in the set they inhabit the classic stoner archetypes, throwing out tight-wound riffs like a combustion engine going into overdrive. Either way, its immensely loud fun that keeps the party roaring strong.
Countless Skies have a majestic take on melodic death metal which evokes the genre's most epic leanings. Backing vocalist Phil Romeo perfectly complements the guttural howls of Ross King, the pair's back and forth dynamic of heaviness and melody evoking the best parts of what MDM can achieve. As the set wears on it all does start to feel a bit one-pace, but as this band grow and evolve we can be sure that they can expand their repertoire to beat such genre-fatigue and do it in epic style.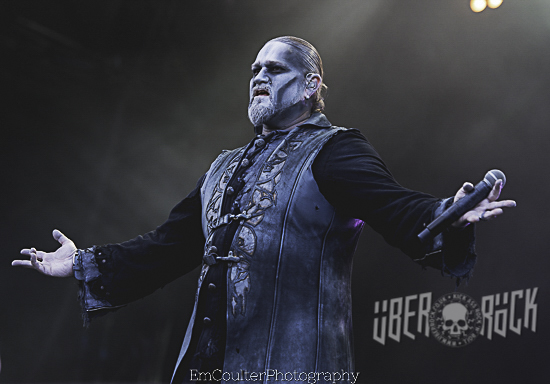 Speaking of epic, songs don't come much bigger than what Powerwolf have to offer. Powerwolf are a testament to what Bloodstock can do for a band, charting their rise from a tent debut just nine years ago to subheadlining main stage this year. Between the enormous histrionics and truly anthemic feel to tracks like 'Demons Are A Girl's Best Friend' and 'Blessed and Possessed', Powerwolf feel every bit the heavy metal champions as they set the stage alight with energy and passion. Frontman Atilla Dorn sits somewhere in personality between Papa Emeritus and Bruce Dickinson, riling the crowd up whilst also injecting a massive dose of camp theatricality into proceedings. And oh, how we love it.
Raging Speedhorn are set up to play to a brimming Sophie Lancaster stage when they come on, the wall of feedback that signals their arrival working to drive people into the tent. The next hour is a non-stop barrage of sludge-toned hardcore-inclined heaviness that escapes easy categorisation but feels oh so satisfying to rage to. How they rage, Speedhorn letting loose from both barrels with such visceral power that it feels like it almost veers into death metal/grindcore territories. For the second time today we get treated to some Motorhead worship in a cover of the eponymous song (which also marks just about the only time a band can cover Motorhead and make it filthier), alongside a 'who's who' of Speedhorn classics including 'Bring Out Your Dead' and 'Thumper', every single second feeling like an explosion of pure nerve and power.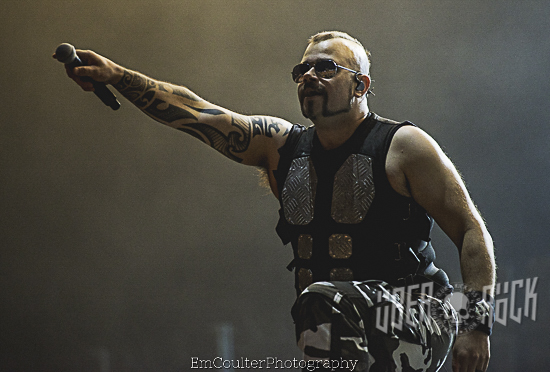 When it comes to spectacle, the only bands that can match Sabaton are those at the very top of the totem-pole; Rammstein, ACDC, Iron Maiden. Leaning in to the war theme fully, Sabaton have the stage decorated with sandbags, barbed wire and a god damned tank, while the flashes of flame and lighting are bright enough that they would (and do) attract attention from miles across the field. On record, Sabaton evoke all the excesses of '80s heavy metal, taking things above and beyond the norms in their pursuit of an ever-more epic rendition of power metal. Whether that's something that appeals to you or not, you can't fuck with the world-beating quality of the show they put on, or argue that they are helping to push heavy metal to bigger and better things.
PHOTO CREDIT: All photos © Emily Coulter/Über Rock. You can view our full gallery of photographs HERE.
With the first acts, including Vio-lence, Sacred Reich, Skindred and The Black Dahlia Murder, already confirmed, early bird tickets for the 20th anniversary edition of Bloodstock, which takes place over the weekend of 6 – 9 August 2020, are available HERE.
All content © Über Rock. Not to be reproduced in part or in whole without the express written permission of Über Rock.