By DJ Monk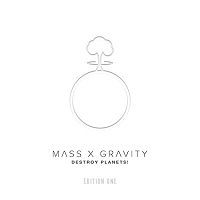 With the final notes of last weekend's Bloodstock festival still ringing in the ears of many fans, it cannot be denied that one of the event's major selling points is its support of rising young bands. Well, if an act personifies the meaning of "new blood" it is Manchester's aptly named Destroy Planets!, who only formed at the beginning of this year and already have wasted no time in releasing what I have to admit is one of the most hugely impressive debut EPs I have heard in a very long time.
The immediate attraction of the five tracks on 'Mass X Gravity' is the way in which they effortlessly move between genres, melding metalcore breakdowns with groove, classic rock vibes poking through industrial Gothicism which in turn subsumes into brutal blast beatdowns, yet all done with a subtly of touch which is genuinely surprising for such a young band. In between, there are elements of math, nu-metal and prog which blend seamlessly into one another with an alacrity and almost gentility which is as deceptive as it is subtle, as blatant as it is subterranean. It's an EP that sneaks up behind you, smashes your face into the wall of that back alley through which you've been sneaking for a shortcut and then leaves its calling card in the hip pocket of your ripped jeans inviting you to join it later for more of the same.
Huge swathes of electronica sweep and soar around the acerbic guitar riffs, which in turn stab and twist with the fury of a serial killer on the prowl. The rhythms pound and compound, taut as a wound wire and as punishing as ten rounds of sparring with Anthony Joshua, while the vocals, courtesy of Tanya Wilson, in turn growl with the fury of a cornered wolf and spark like a live cable hovering above a puddle of fresh rainwater.
This is a genuinely impressive debut. It's been a long time since I have listened to a debut release and thought to myself "these guys have absolutely nailed it on the first attempt". 'Mass X Gravity' is has done just that. Congratulations guys. You may not be ready to annihilate the universe just yet, but I'm pretty damn sure you're going to be levelling venues up and down the Über Kingdom of Rock 'n' Roll pretty fucking soon!
www.facebook.com/destroyplanetsband
All content © Über Rock. Not to be reproduced in part or in whole without the express written permission of Über Rock.