By DJ Monk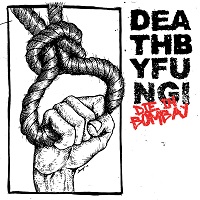 Over the past half a decade or so, the Indian sub-continent has established itself as something of a hotbed for emerging talent, with a plethora of new bands coming to our attention on a virtually daily basis. Most of them populate the extreme end of the metal spectrum, and latest emergent, the wonderfully named Death By Fungi, are no exception, as their speciality lies at the more brutal end of the hardcore punk spectrum.
Clocking in at just ten seconds over the eight minute mark, the four tracks on this, the quartet's third EP, present, quite literally, a short, sharp shock to the system, as DBF don't fuck about in marking their return to the forefront of the Bombay scene they helped to promulgate. The opening title track is pure old school hardcore, and abrasive and disorienting frenzy of relentless d-beat driven anarchy characterized by frenetic guitarwork underpinned by solid percussion and rhythm and topped off by Tabish Khidir's acerbic, forceful vocal. The songs violence emphasizes that of the society in which the band originated and the resident population's indifference to same, speaking as it does of the apathy surrounding the discovery of a woman's body on a railway line: "A gathering crowd/Some of them laughed/No trauma allotted to a populous/That die like rats".
'Die In Bombay' is not the sound of rebellion. It is that of acceptance. It is that of a feeling of helplessness, the knowledge that, no matter how what is going on around you angers and frustrates you, you know you can do nothing about it. To quote the title track again: "If you're born in Bombay/You'll die in Bombay/Move to Mumbai/You'll die in Mumbai". DBF know that only too well, and also that all they can do is rage against that inevitability. And, in the process, they have produced an EP which speaks that universal language and gives the underdog another chance to have their voice heard. Nothing groundbreaking, but a worthy release which will appeal to fans of the likes of Converge, Shai Hulud, Propagandhi and even Black Flag.
'Die In Bombay' is out now. You can get your copy HERE.
www.facebook.com/deathbyfungi/
All content © Über Rock. Not to be reproduced in part or in whole without the express written permission of Über Rock.