By Rich Hobson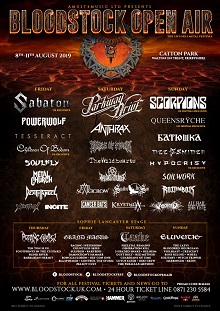 As far as the UK metal community goes, you'll not find a bigger or more concentrated celebration of heavy metal than at Bloodstock, the festival having gone from strength to strength since its first outdoor events way back in 2005. Over the years legends and newcomers alike have graced its stages, some even going on to headline in their own right as a show that the festival is not concerned with just rotating the same old faces when it can promote new talent to higher positions than ever before. Go
jira, Opeth, Mastodon, Ghost, Amon Amarth – all have headlined this decade, each holding a special place of reverence in the hearts of those who caught their sets. Yet, Bloodstock 2019 looks to have its most 'controversial' booking yet in the form of Australian metalcore mob Parkway Drive, this year's Saturday night headliners who take a decidedly different position to the traditional heavy metal cultural norms. Never mind that they've one of the best stage shows in the business, nor that the band have produced some titanium-plated anthems in their career thus far; it turns out that sometimes people will only be happy if you toe the line and stay in your box. But then, that was never Bloodstock's way, was it?
Gates are open nice and early Thursday to start inviting the masses in, but patches of traffic and a wander around site mean we miss the festival opening set courtesy of stoner/sludge heroes Barbarian Hermit. Instead, its an almost total change of pace in the form of rock troupe Blind River. Most definitely not the first out-and-out rock band to play Bloodstock (and absolutely not the last – Scorpions headline Sunday night, after all), Blind River offer up the kind of canny genre-wise rock grooves that can see their sound check in everywhere from post-grunge to southern, classic rock revival and even a smattering of stoner.
Bands like Blind River are commonplace in the modern rock scene, but that doesn't mean that they don't have their own place and BR's place seems set to be firing off on all cylinders onstage, winning over crowds one show at a time. blind River are good times rock n roll, pure and simple, their sun drenched vibes setting up the festival vibes nicely against a roasting August evening. This is Hermano by way of Black Stone Cherry; beer chugging yowl alongs and widdling guitar work making for a happy booster shot of rocky fun.
And that's just it – Bloodstock as a festival is all about the fun. There is a misconception about bloodstock being the festival of the true kvlt metal elite, but the roar of pure excitement that erupts when Footprints in the Custard take to the stage soon show this festival has long been a haven for metal's most outlandish excesses. Inflatables fly about as the band hammer through the likes of 'Party Metal' and 'Motherfucking Hangover', delivering the goods in a way that doffs the cap to Bloodstock mainstays Evil Scarecrow. Its easy to read into comedy bands and see them as one note jokes, but Footprints have made massive headway in both style and execution since their inception, dropping try-hard risqué songs that'd make Steel Panther cock an eyebrow to something more in tune with modern sentiment –ably demonstrated by set closer 'Don't Be A Cunt'.
Sludge appears to be well and truly making itself at home for Bloodstock 2019, a fact reinforced by the matter of both Barbarian Hermit and Ten Ton Slug popping up on Day #1 alone. There's little whimsy to be found here, the deep rumbling of down-tuned riffs being loosed at an insistent pace making sure the metalheads present are on-side immediately. Given a viciousness and rumble that is fairly lacking on their recorded output thus far, Ten Ton Slug feel enormous as they pack out the Sophie Lancaster tent, chants of 'Ten Ton Slug' erupting as the band let loose their brand of doom-inspired sludge metal. Heavier than Sabbath and not quite so poetic and introspective as Acid Bath, the band feel like the first 'proper' Bloodstock act of the weekend.
Having existed in some form or another since 1987, Thursday night headliners Rotting Christ are no strangers to winning over new friends and dominating festival line-ups. One of extreme metal's more iconoclastic acts, its been a long time since the Greek act could solely within the black metal genre. This is further confirmed by the band's choice of setlist – the grand, gothic vibes of opener 'Hallowed Be Thy Name' leading on to later thrashier fare and more doom-centric songs further down the road to show off just how diverse they can be. Silhouetted against the backdrop, the band opt for steady doom opener 'Hallowed Be Thy Name' (pulled from this year's 'The Heretics') rather than come out the gates swinging, letting the inherent power and bombast of their set speak for itself.
The theatricality of the band doesn't always necessarily translate to the Sophie stage, but where monologues and intro tapes fail, the enormous atmospherics of their music certainly doesn't miss the target of winning over casuals and hardcore fans alike. Faster numbers like 'Elthe Kyrie' provide a blistering throwback to Rotting Christ's more overtly heavy tendencies, but the real standout for the show is that all slower numbers possess the kind of tight, metronomic rhythm section that you can't help but get sucked into their sense of ceremony. 'Apage Satana' demonstrates this with extra zeal, its simple yet almost tribal rhythms bypassing the brain and going right for the guts, making it nigh on impossible to avoid headbanging excitedly along to the music. Similarly, 'In Yumen-Xialbaba' introduces chants and gothic passages that up the ante in atmospherics to almost ritualistic levels. Representative of Bloodstock's more traditional bookings, Rotting Christ prove themselves a very worthy headliner for the festival's first day, commanding the audience with the kind of imperious power that could only have emerged from black metal.

With the first acts, including Vio-lence, Sacred Reich, Skindred and The Black Dahlia Murder, already confirmed, early bird tickets for the 20th anniversary edition of Bloodstock, which takes place over the weekend of 6 – 9 August 2020, are available HERE.
You can check out our gallery of photographs from this year's Bloodstock HERE.
All content © Über Rock. Not to be reproduced in part or in whole without the express written permission of Über Rock.