By Jim Rowland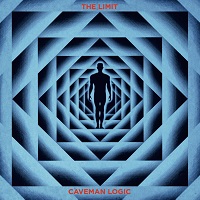 Chances are you may not have heard of The Limit yet, but you should be familiar with some of the names that make up this new 'supergroup' of punk, rock and doom heavyweights. Take Sonny Vincent, enigmatic legend of the early NYC punk scene with his band Testors, veteran bassist Jimmy Recca, who had stints with The Stooges and Ron Asheton's New Order, add Hugo Conim and Pedro Ventura from Portuguese doom merchants Dawnrider and you've got quite a line-up there. Top it all off with vocals from the legendary Bobby Liebling, main man of doom pioneers Pentagram, and you've got something special on your hands. Here you have The Limit, and 'Cavemen Logic' is their first offering.
On paper, you may wonder whether mixing pioneering legends of the US punk and doom scenes is going to work, but opening cut 'Over Rover' quickly confirms that it does, weaving short doomy interludes into a full on punk rock'n'roll attack with crisp, punchy guitar and rhythm work. In truth that's largely where the doom references end, with the rest of the album concentrating on a punky rock'n'roll frenzy full of great catchy riffs, very well written songs and really strong vocal melodies, particularly on the excellent single 'Black Sea' where Liebling positively shines.
Great guitar work on 'These Days' and 'Sir Lancelot' makes this pair two of the album's catchiest moments, whilst the likes of 'Human Vs Nature', 'Fleeting Thoughts' and 'Kitty Gone' are prime slices of driving, hard rock'n'roll. The belting 'Life's Last Night' echoes the incendiary punk attack of 'Over Rover', whilst title track 'Cavemen Logic', another highlight, is a real nod to The Stooges in the riff department, with Bobby Liebling summoning his inner Iggy to fine effect. The final two tracks seem to veer in a slightly more psyche direction, with the slower 'Death Of My soul' having a darker, eerie vibe, and the groovy 'Enough's Enough' having a particularly vintage feel to it.
'Cavemen Logic' is an absolute belting slice of punk-infused hard rock'n'roll from start to finish. The guitar work of Sonny Vincent, who also produced the record, shines very brightly, as does the vocal performance of Bobby Liebling, who adapts superbly to an album that is to some degree outside his usual parameters or comfort zone. Whether there's a follow up to this in the pipeline I don't know, but on the strength of this there will be few people who would not be shouting for more.
'Caveman Logic' is released on Friday (9 April). You can get your copy HERE.
All content © Über Rock. Not to be reproduced in part or in whole without the express written permission of Über Rock.