By Jonny Bakes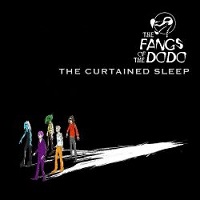 The sun has actually come out, which is a pretty rare occurrence for this corner of the Über Kingdom, so I'm making the most of it (responsibly) by sitting in the garden to knuckle down on some more reviews. Considering that it is pretty pleasant out, I've decided to opt for something from the more gentle and upbeat submissions that have come into ÜRHQ for review and picked out the fun sounding The Fangs Of The Dodo to see what they have to offer.
'The Curtained Sleep' is the follow up to the band's well received 2018 debut EP 'Hopiates' and comes after a string of performances at some pretty big events, including London's MCM Comic Con. Which conveniently leads me into the general theme of this latest EP which is a look into the warped mind of a band of supervillains. I'm already getting some pretty strong nerdy art-rock vibes from this album, and I haven't even started listening yet. Clearly the only thing to do is delve in and see what we've got!
Starting off this adventure is the previously released single, 'Crime of the Century' which earned itself airplay on both Kerrang Radio, and Planet Rock (although I'd say it's definitely more of a Kerrang tune). From the get-go I'm feeling some strong Panic! at the Disco vibes with the marching snare, and the vocals of Count Dodo only add to this. The vampiric Count takes lead vocal duty for the majority of the EP, and each song takes you through the deeper aspects of his twisted mind. That is, with the exception of one track nestled in the middle of the EP where the lead role is relinquished to Cinder for 'Hung By A Thread'.
I would describe this a heavy ballad if I was trying to pin this down to a particular style. Cinder's vocals have a very bluesy feel to them, which gives a heartfelt element to this track as it tries to portray that feeling of that one element of sanity that you can cling onto in times of severe life disruption (oddly fitting for the current climate, don't you think?)
While this isn't something I would normally listen to, it has been a pretty enjoyable journey. If you're a fan of bands such as Fall Out Boy, MCR, and other such bands of the early 00s emo movement then this will absolutely tick all the boxes for you. If you're the kind of person who tries to avoid this like the plague and would do everything you could to escape a pop-punk themed night, then this really won't be for you. But for me, I must say I enjoyed this, but I wouldn't expect it to be something that makes a significantly regular appearance in my playlist. However, I can think of plenty of friends who would be all over this!
'The Curtained Sleep' is out now. You can get your copy HERE.
www.facebook.com/thefangsofthedodo
All content © Über Rock. Not to be reproduced in part or in whole without the express written permission of Über Rock.