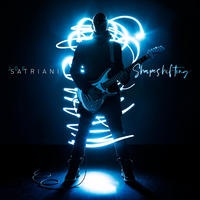 In these deeply uncertain times, it's good to know there are still some steadfast universal truths we can cling to: sausage rolls are only to be consumed with brown sauce – get that ketchup outta here; the Star Wars prequels have merit for those wishing to do some digging; and Joe Satriani remains a vital force in the world of virtuosic, instrumental rock music.
On this, Satch's 17th album, the songs are once again king – there's no time for needless fretboard wankery here.  While his proficiency is undeniably apparent, Satch's appeal has always been in his commitment to making instrumental music that should be as instantaneous and 'hooky' as anything vocally driven.  'Shapeshifter' is a fine example of this mandate.
The first single, 'Nineteen Eighty' had fans surmising that the record would continue the more hard rock approach of 2018's 'What Happens Next', after a previous foray into Sci-Fi soundscapes (not really a novelty for Satriani).  The Eddie Van Halen worship of the single, as well as the ZZ Top meets Foo Fighters vibe of the pre-released 'Big Distortion' certainly attested to this theory.  Generally speaking this is a fairly accurate summation, but there's plenty more going on throughout the runtime of 'Shapeshifter'.
The opening title track finds Satch making his introduction with an octave run into a sizable southern rock riff, anchored by some phenomenal bass playing courtesy of Chris Chaney.  Alongside Kenny Aronoff on drums and Eric Caudieux on keys, the core backing band is of stellar calibre and reputation.
'All For Love' brings the tempo down after a string of high octane belters.  It's swirling atmospherics are perfectly married by Satch's high register lead work.  Never one to shy from inventiveness, the onomatopoeia in the guitar harmonics of 'Teardrops' is a testament to the efficient simplicity of his writing; the sustained notes and fluid lead runs sounding like Carlos Santana having a jam session with David Gilmour.
The excessively titled 'Ali Farka, Dick Dale, An Alien And Me', adopts the more futuristic atmospherics of earlier releases, while the spine-tingling 'Waiting' utilizes children voices and minimalist piano to create its hauntingly uplifting sound.  However, the closing 'Yesterday's Yesterday' may be one of the least characteristic Satriani tracks of his recorded catalogue. Primarily acoustic, led by a whistled melody, and featuring a mandolin cameo by Christopher Guest (yes, of Spinal Tap fame), this energetic folk-tinged ditty is definitely an outlier of his career.
Even in the world of YouTube prodigies, Joe Satriani's playing stands tall in the purity of his songwriting.  While there's nothing technically new on 'Shapeshifting' when it comes to guitar work, he remains a master of his craft, while seemingly shrugging off melodies that most vocalists would consider heinous things to get their hands on.
'Shapeshifting' is released on Friday (10 April). You can get your copy HERE.
All content © Über Rock. Not to be reproduced in part or in whole without the express written permission of Über Rock.