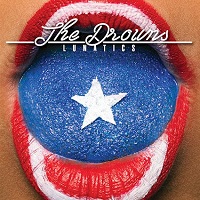 Seattle punk veterans The Drowns' last album, 'Under Tension' was by all accounts a ten track Trojan Horse, packed with genius punk belters that seemed destined to launch them to victory. Unfortunately, their carefully crafted creation was sabotaged by the impact of Covid-19, leaving the marketing and promotion campaign truly tarred and feathered. Yet, The Drowns have returned, determined to do things their way with a sound that is a blend of punk hooks and rock rhythm that is sure to disgust purists.
Take the first single from new EP 'Lunatics', 'Live Like Yer Dyin'', which, in a tribute to Little Richard, is full-on, no brakes rock n' roll with the punk roots only resonating in the energy and aggression of the delivery. Available in four vinyl 12" variations, the aim is 'music to make you feel alive' and the genre boundaries can go to hell.
Meanwhile, the title track 'Lunatics', sung by bassist Andy Wylie, sounds like a punk-rock, folk mashup, if you can imagine it. About the extent of homelessness in the bands' hometown of Seattle and the surrounding county where over 40 thousand individuals are largely ignored by people lucky enough to be better off than they are. The video for the track, directed by guitarist/vocalist Aaron Rev Peters, challenges attitudes and assumptions about homeless people as the lyrics lament a ''…modern crucifixion'' parallel in the general lack of empathy and disgust shown towards fellow human beings.
'The Working Dead' follows, describing the monotonous rush of working life. Drowning in the sea of minimum wagers, working for their pension, gone eventually without leaving a meaningful trace. It's a classic punk track that sidesteps other influences and sounds great. Peters' growl slaps our attention back to high energy heavy rock in 'She's The Knife'. This is warning to anyone who disrespects women by catcalling, or belittling them, as it reminds the listener of their power and strength. It's a real old-school 'Fuck You' rock track and a breath of fresh air as far as I'm concerned.
Wistful 'Look What We've Become' is a lament to the selfishness inherent in the modern world and the most melodic track here. 'Tokyo Red Alert', about being in the middle of a tsunami warning ''…five thousand miles away from everything we know.'' Although the tale describes an unpleasant tour experience, the song leaves you with an upbeat feel.
If I were to describe The Drowns, I would have to mention their boundless energy and the way they address serious issues with feel good music. Though lacking in the street punk sound of 'Under Tension', 'Lunatics' is upbeat-sounding Rock 'N' Roll with forty years of punk experience to back it up.
'Lunatics' is out now. You can get your copy HERE.
The Drowns play the Rebellion festival in Blackpool on Sunday 7 August.
All content © Über Rock. Not to be reproduced in part or in whole without the express written permission of Über Rock.