By Jim Rowland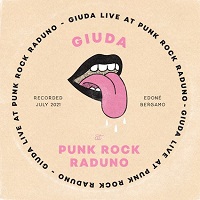 Ever since the release of Giuda's debut album 'Racey Roller' back in 2010, the glam-fuelled Rome rockers have spearheaded the revival of bootboy 'bovver rock', making the 'proper' glam rock of the first half of the '70's cool again. Twelve years on, they have four outstanding studio albums under their glitter belts but, so far, no live recordings. That's about to change with the release of 'Live At Punk Raduno', a live album recorded in the summer of 2021 at the Italian festival Punk Rock Raduno.
My love affair with Giuda started at a festival – France's Hellfest back in 2015, when I was dragged to the front of the main stage at the ungodly hour of 11.30 in the morning by Über-founder Johnny
Hayward, promising it was a move I would not regret. By the end of their 40 minute set, I was scraping my jaw up from the floor in disbelief at the wondrous majesty of what I had just witnessed.
Since then, I have been a Giuda obsessive, and for me they are hands down the best new band to emerge in the last 12 years bar none. They had a punk past as Taxi, and with Giuda they have forged ahead fusing that punk energy with the glorious ÜK glam rock sound of the early to mid '70's – paying homage to, but not imitating, the likes of Slade, Sweet, Glitter, Alvin Stardust, Mud and Suzi Quatro, along with the numerous more obscure acts from the period, such as Hector, who's music has gained a new audience through the various 'junkshop glam' compilations that have cropped up over the past 15 years or so. The early recordings of the mighty Cock Sparrer are another obvious influence too.
The sound quality of this live recording is spot on superb, no bootleg quality in sight, and as it's a recording of one of the band's incendiary live performances, catches them in perhaps slightly more gritty and heavy style compared to the studio recordings. The track listing leans heavily towards the glam-tastic tracks from the first two albums – 'Racey Roller' and 'Let's Do It Again'. The likes of 'Tartan Pants', 'Number 10', 'Back Home', 'Roll On', 'Hey Hey', 'Coming Back to You' and the Sweet-esque 'Teenage Rebel' are all brilliantly crafted, short and sweet prime slices of glam-fueled rock'n'roll perfection, with 'Wild Tiger Woman' a simply irresistible and ridiculously catchy anthem to top all anthems.
'Get It Over', 'Space Walk' and 'Watch Your Step' are combined into one exhilarating Glitter-rhythm'd medley, and 'Hold Me Tight' sits back a little more, with a nod to the glam/old school rock 'n' roll styling of Alvin Stardust. 'Interplanetary Craft' and 'Bonehead Waltz' are fine inclusions from the later two albums, and there are of course loads more Giuda peaches like 'Roll The Balls', 'Overdrive', 'Working Class Man', 'Yellow Dash' and 'Bad Days Are Back' that would have been welcome additions, but there's only so much you can fit onto a 40 minute slab of vinyl, available here in black, white and pink variations.
'Live At Punk Raduno' is totally fun, uplifting, foot-stomping, hand-clapping good time rock'n'roll of the very highest standard. If you're new to Giuda, this wouldn't be a bad place to start at all, as it's a live 'greatest hits' of sorts, and if you've already caught the Giuda bug, it's another essential addition to the collection.
'Live At Punk Raduno' is released on Friday (13 May). You can get your copy HERE.
www.facebook.com/giudaofficial/
All content © Über Rock. Not to be reproduced in part or in whole without the express written permission of Über Rock.