By Monk and The Dark Queen
I must admit that I have something of a love/hate relationship with the annual Metal 2 The Masses "battle of the bands"-style competition. Having been involved as a judge for the past seven years, I love the fact that it has, in that period, introduced me to so many great new bands, and continues to open my eyes (and ears) to some incredible young (and, in some cases, not so young) talent, showing, year on year, what a massive pool of the stuff we have in this particular corner of the Überverse. Where the hate factor comes in, however, is in the fact that, as a judge, I have to be just that: a judge, and pass judgement on who deserves to go through the next round and compete for that ultimate prize of a slot at the mighty Bloodstock festival. It can often be an impossible task, especially when each and every band on each and every night lays everything they have, every ounce of sweat, every gram of passion, on the floor. This year has been no exception as, with a few exceptions, I have been left with absolutely agonizing decisions as to who to send forward for the ultimate judgement… and that is why I love the final round because I can actually stand back and enjoy the performances for what they are, content and safe that myself and my fellow judges (hopefully) have put forward the best six bands that Norn Iron has to offer to fall under the steely gaze of BOA's very own Simon (Cowell) Hall…
As with the rest of the competition, the running order is decided by drawn lots just before the doors open, which means that first into battle tonight are alt-rockers Divides/Unfold, who take to the stage just as the very last ticket for tonight's show is sold, making this yet another capacity crowd, something which has been particularly pleasing about this year's iteration of M2TM.
D/U deliver a thick groove that's tighter than an altar boy's buttocks with a precision and practices ease to a great reception. Often described as Belfast's answer to Alter Bridge, it's not hard to see (and hear why), as their high energy levels and commanding stage presence demonstrate how much this quartet have developed over the past few years.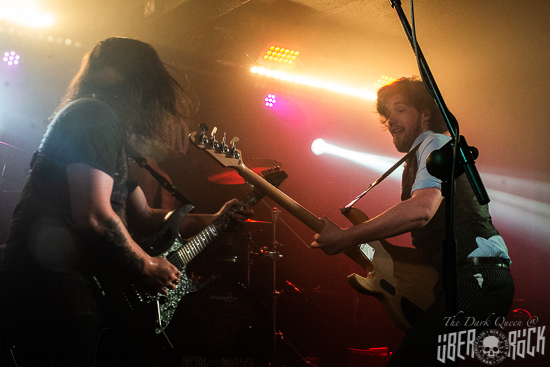 The "classic rock" vibe continues with the power trio by the name of Blurred Reality, another band with an impressive frontman who dominates the stage, front and centre, coupled with an extremely charismatic drummer who definitely knows how to lead from the back, often standing up to cajole the crowd to greater levels of apoplexy. Opening up the first pit of the evening, their heavy, gunky, grungy sonics lie somewhere between a NWoBHM forcefulness and NWoCR sensibilities.
They suffer some serious technical problems midway through their allotted 30 minutes, with the backline sounding like it's having a serious meltdown, but they don't let it faze them and pick it straight back up and finish their set with the place in a mad headbanging frenzy. For a trio, they sound really big and DQ is standing there going "wow", saying its a long time since a band has impressed her so much so immediately, especially in the way they can take a slow intro and bring it seamlessly into a bouncy beat.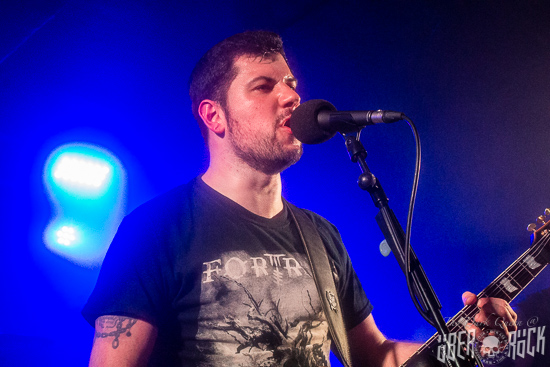 Nømadus are the first genuinely "metal" band of the night, with their brand of doom-infused classic rock vibes with a modern, almost deathcore, twist. Our colleague Jase would absolutely love these guys, with their mathy, proggy moodiness matched with that deep, doom glissando. It's dense, tight and taut as a tightrope and the only negative is that they are not able to fulfill the raucous calls for the first encore of the evening.
Another change in mood epitomizes the diversity of bands who have battled their way through to this final stage and a band who definitely define the term "New Blood" in Dynasty, whose name pays tribute to the fact that a couple of the guys are second-generation rockers whose dads play in other, more established bands… This competition also saw their live baptism and so it is much kudos due for them to get this far so soon…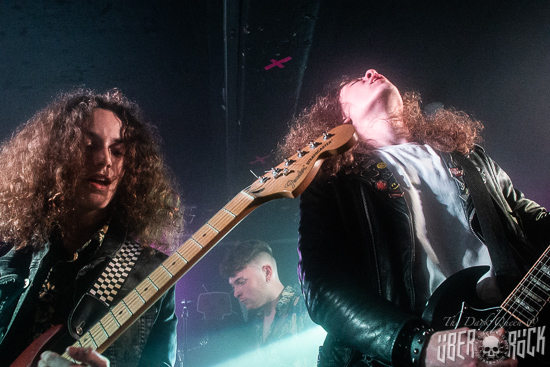 With an emphasis very much on providing an entertaining show, with their sound a cross between '80s power pop/sleaze and '90s pop punk, filled to the brim with useful spunk, with echoes of early Def Leppard mixed with LA Guns and New York Dolls and plenty of SLF-style Belfast attitude. They nearly blow everything when the lead guitarist breaks a string and they (very) briefly consider abandoning the set two-thirds of the way through, but he quickly retunes and they soldier on to finish off a set of good-time locked and loaded old-school r'n'r.
It's definitely a case of keeping the heaviest onslaughts until the last, and another band who had played their first ever gig at M2TM: this time, however, Haint had done so back in 2020, before Covid intervened and stymied their advance, and they had to wait 25 months to progress further. Back then, they absolutely ripped my head off and, to be honest, it was as if just a few weeks had passed rather than two years, as they did exactly the same again.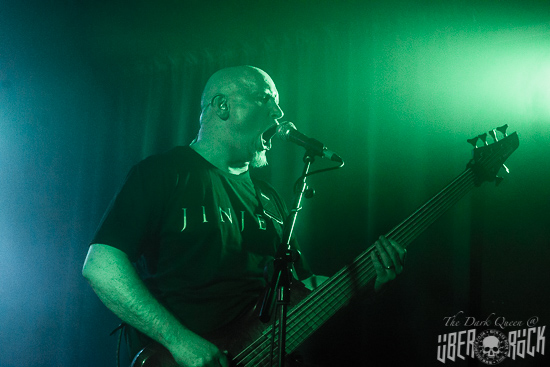 They deliver dark, throbbing soundscapes with stoner-infused doom miens, the dense rhythmics underpinned by brooding, pummeling bass lines that accentuate the heavy bottom end of their sound but also emphasize how finely tuned this smoothly metal engine is running.
Another band who, to the best of my recollection (which admittedly can be a little hazy at times) had made their live debut during the aborted 2020 competition are Survivalist, who close out tonight's proceedings. Born out of the ashes of thrashers Donum Dei, this band is definitely, and defiantly, a different entity, going down a much more metalcore route with heart-pounding beatdowns that leave no room to draw breath.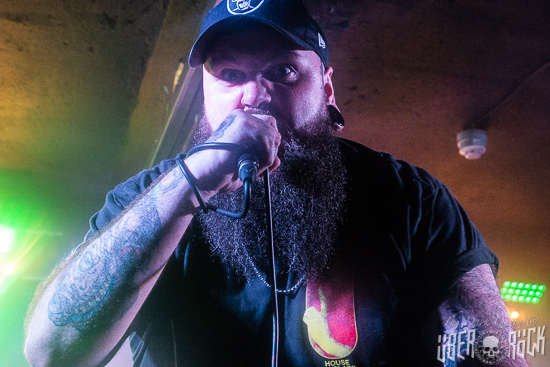 It's a hard-hitting, harsh, unrelenting and vicious aural assault which leaves no stone unturned and ignites the energy that is latent in the room, even this late at night. DQ is particularly impressed by their frontman's range and the way he effortlessly switches between clean vocals and dirty growls.
Crossing different sub-genres to demonstrate the breadth and depth of talent we have to draw on, all six bands most definitely left everything they had on stage, leaving nothing behind but the electricity in the air. But, at the end of the night (or the wee small hours of the morning, as it was now), there can be only one winner, and the honour of representing Northern Ireland at the 2022 iteration of Bloodstock falls to Haint, with Nømadus added to the reserve list of potential later additions. Well done to everyone concerned – the musicians, the fans who turned out in droves over the course of the nine weeks of competition and, most especially, James Loveday for once again organizing such a superb showcase, as well as his continued dedication to the Norn Irish metal scene. Until next year… \m/
PHOTO CREDIT: All photos © The Dark Queen/Über Rock. You can view our full gallery of photographs HERE.
Metal 2 The Masses regional finals continue to take place up and down the country. Bloodstock takes place at Catton Hall, Derbyshire, over the weekend of 11-14 August. You can get your tickets by clicking on the banner at the top of the page.
All content © Über Rock. Not to be reproduced in part or in whole without the express written permission of Über Rock.