By Jase Walker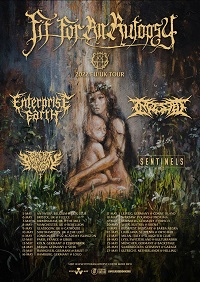 My third gig this weekend after returning from an escapade in London sees me returning to Manchester and making a mad dash across town for the doors at Rebellion for tech death stalwarts Fit For An Autopsy. The doors today are at 6pm to allow for changeovers with this absolutely STACKED line-up featuring Great American Ghost, Ingested, Enterprise Earth and Sentinels. Good thing I've not forgotten my earplugs today and booked tomorrow off work because this is going to ruin me.
Sentinels are up to start us off tonight, so let's get this gig going! Fully expecting some arms and legs to get thrown about shortly! The rumbling intro gets my heart racing in anticipation, I might be knackered but I'm not out of the game just yet! Right from the start the low end of the guitars pounds the room and discordant guitar shrieking pierces every corner!  Admittedly one thing that stands out is that it looks like some of the melody is pre-recorded, so I'm unsure if they're just missing someone on this tour?
It doesn't take long before people start the old spin kicking ninja routine, nearly sending my pint flying too! Sentinels continue their onslaught, getting this sort of intensity right from the start of tonight is setting the mood bang on. The guitar work from these guys reminds me a lot of the likes of Car Bomb or Diamond Construct, frantic, dissonant, and all supported by relentless crushing chugs. Yeah, this has been some deliciously Mathy stuff to get us off on the right foot, class show lads.
Following a swift changeover, Great American Ghost is up next! With five bands on the bill for a Sunday night, this needs to be bloody quick! I might have placed myself in the danger zone a bit with being a bit closer to the stage this time but oh well! Literally just as they began some guy jumps the stage and tries to stage dive and misses the crowd completely and goes face first into the floor, not good. The crowd is already going wild big time, Great American Ghost are smashing it with massive riffs, relentless thundering chugs and a singer that looks like he wants to scream someone's face off.
With every single breakdown, every momentary set of chugs, I can feel the air behind me constantly blowing around my neck and legs with the pit in full flow. Saying they're also from Manchester (But in America), the crowd boos it in jest, standard Manchester. It's little wonder the crowds going berserk, these breakdowns are just straight up filth, you want a pre-chorus breakdown. You got it, you want the same riff but much slower? Yep, right here. Man, these guys have some properly meaty riffs, after seeing the stage diver earlier I've got to keep my wits about me – and no sooner did I type that last sentence I had to grab some guy's foot to stop it smacking me in the head.
We've still got three bands left and Rebellion is heaving and consumed with an appetite for beating the shit out of each other in the pit.
Third tonight is Enterprise Earth, who's singer briefly popped up during Great American Ghost's set and my god these vocals are absolutely bloody disgusting, ranging from gutturals to high pitched squeals all supported by some delicious eight-string riffy filth. Deathcore can be a bit of an acquired taste for some, but I've steadily grown into it as I've found myself getting a bigger appetite for insanely heavy music and this is scratching the itch. I mean it says a lot about the crowd when even the security is a bit wary of getting near the pit, everyone here properly wants a piece of each other and they're definitely getting that pound of flesh.
With the singer talking the crowd into pulling the pit further open with each song, and whipping them into a frenzy, Rebellion isn't showing any signs of getting tired, if anything they're just getting more intense with each band! Continuing the trend of relentless, pounding music and abyssal uncleans, the audience is a sea of banging heads, flailing arms and people slamming into each other. Enterprise Earth are masters of the "Same riff but slower", with the singer sounding like a star collapsing next to your head, can't help but gurn so hard my eyebrows hurt.
Our penultimate act for tonight is local lads Ingested, playing their personally labelled "Slamchester" death metal. These guys have never not been insanely busy for as long as I've known about them after moving to Manchester. It's very much the point of this entire lineup but here we've got Ingested showing off that they know their stomping grounds, it's plain to see they're going to make sure Manchester knows their sons are here to wreck the place. Admittedly I've never been super into Ingested before but I'm really digging this show so far, it's been fantastic and my god, those double bass pedal sections sound like the D-day Landings, rapid, constant and loud as fuck.
Commanding the audience to split the room and they gladly oblige; I feel the people around me close in as the first note hits and everyone in the pit goes berserk. Arms wildly waving around, shoving in any direction imaginable while Ingested kick out their latest single, their hold on the audience is incredible. It's unbelievable seeing how much energy everyone still has left to give at this point. I mean Counterparts absolutely destroyed this place a while back, but I think Ingested are one-upping them on outright crowd ferocity here, almost the entire bottom floor is just a sea of faces illuminated by flashing lights.
Obviously, they're glad to be smashing it at a hometown show here, not long before Fit For An Autopsy now!
And finally, here we are. I'm fully braced for the last burst of energy from the crowd when they go absolutely bonkers the moment they start, this one's going to be special. Fit For An Autopsy opening up with 'Oh What The Future Holds', the title track from their latest album and just as I thought, I'm immediately being bounced around in the crowd and I'm not even in the middle of the pit. But following it with 'Sea Of Tragic Beasts'? Absolute banger. The crowd screams "fall in the fire with me" right back and nobody can seek to get close enough to the stage: this is madness!
The singer of Great American Ghost has opted to be the crowd surfer control for tonight by the looks, grabbing people when they come over and sending them back onto the crowd. I mean I thought Ingested's response was pretty scary but the state of this is just straight up mania, Rebellion is now just a mess of sweaty bodies flying at each other and showing no signs of slowing. A bit sooner than I thought, were heading into 'Far From Heaven' and this one's going to cause even more carnage; the moment that first line of the chorus hits, it's just chaos!
It looks like they're having some mild guitar issues but with Patrick still carrying the main riff, it doesn't seem most people have noticed it that much. It's been enough for the band to quickly make a stop in the set while they sort it out, sucks but it does happen and Patrick's politely requested for stage jumpers to be a bit careful while they're up there. Sadly, it's looking like the guitar issues are taking a bit longer than expected to sort out which is a shame but they're assuring us they're not cutting any songs from the set… But we're back! Time for more delicious tech death with 'Warfare'.
The sheer amount of crowd surfing going on is mind-blowing, this is on top of a pit that's just been going non-stop and is somehow coherent enough to support people's weight when carrying them to the front and then receiving them when they jump back. Towards the end, Patrick ends up pouring a bottle of water over the central pit: what a lovely bloke. 'Your Pain Is Mine', carries on the set and keeps the crowd surfers surfing, the pitters pitting and everyone else screaming their lungs out, we're in the home stretch now. Finishing on 'Two Towers' after getting the crowd to chant "Fuck Bristol!" bizarrely, Fit For An Autopsy draw their show to a close and I am a broken man.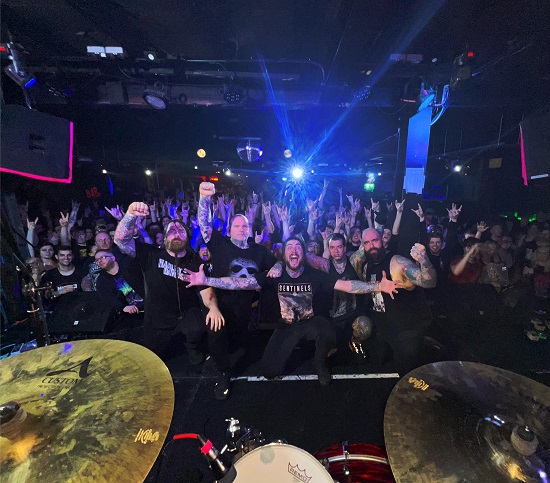 Today's show has been a cherry on top of an extremely busy and amazing weekend for me and I don't think I've ever been more ready for bed than I am right now. I hope every band on this bill has an amazing rest of the tour: it's absolutely destroyed Manchester!
PHOTO CREDIT: Photograph courtesy of Fit For An Autopsy.
All content © Über Rock. Not to be reproduced in part or in whole without the express written permission of Über Rock.