By Bona Pjarren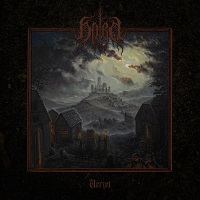 Horn was formed as a solo project in 2003 by Niklas and is a solitary musical undertaking up to the present day. The initial drive behind the project was to create nature-themed black metal, focusing on the relation of man and nature in a regional context. The old material, being mainly concerned with detailed descriptions of nature and incorporating rather upbeat, folk-influenced riffing, has made way for more sinister themes and soundscapes over the years. What has remained throughout the course of nine studio albums is the distinct "Horn" sound, featuring siren-like lead guitars, classical black metal-styled vocals as well as clean chorals and a serious folkloristic approach far from the jolly drunken Viking tunes celebrated these days.
'Verzet,' the album's name, is Dutch and stands for "Resistance"
'Pein Muss' is the first track but I am uncertain as to its meaning other than "pain". It rips straight in with a "take no prisoners" attitude and skilfully mixes black metal with folk. It did remind me a little of Korpiklaani. All in all, a fine first track with loads of good hooks and a driving rhythm section.
'Alpenrekorder' or 'Alpine Recorder' is the new single and has a nice harmonised vocal to introduce the track before it launches into the main body of the song. It treads a fine line between melodic black metal and all out thrash. There are some memorable and tuneful guitar riffs and it delivers a really epic piece of music.
The third track is 'Galgenblech' and means "gallows plate". The mandolin is more prominent in this piece and underlines its folkier style. There is some great group vocals which give it a sing along feel. It helps it to stand out from the previous tracks and really endeared itself to me as a listener. Next up is 'Aufstand' or 'Revolt', which has a nicely thought out introductory riff and blasting drum beats. Full of attitude it rocks along at a frantic pace. Again the group vocals add a certain earthy folk charm to the song.
'A Hill To Die On' is next. What! No translation? That's a bit of a curve ball, I can't show off on this one. I really liked the way that this track went about its business. Very accessible black metal, wonderfully dark but with loads of ear worms. This is turning into a quite a memorable album. 'Parole Sono Pietre' means "words are stones" and is a bit of a surprise track. Wonderful acoustic guitars entwine in interesting almost flamenco ways to produce this neo-classical piece.
And so onto 'Protektor': I'll give you three guesses what that means. I loved the big drum sounds and atmospheric washes that introduce this track, it has an industrial feel to it which really makes it unique. Again I feel it has a bit of a Korpiklaani or Turisas feel to the way it groves, it's that combination of black metal and folk.
And so sadly we are at the last track, 'Verzet' itself. Again it surprises with probably the slowest track tempo wise on the album, though it does switch through the drumming gears as it progresses. Clean vocals also dominate but again the well thought out hooks and melodies dominate. So it fits well with the album's other songs.
In conclusion this is a tour de force of an album, packed with harmonies and memorable melodies it gives the listener plenty to go at. I really don't think there is a bad song on the album and as you can tell I absolutely loved it. I recommend you give it a listen.
'Verzet' is released on 16 May. You can get your copy HERE.
All content © Über Rock. Not to be reproduced in part or in whole without the express written permission of Über Rock.