By Jonny Bakes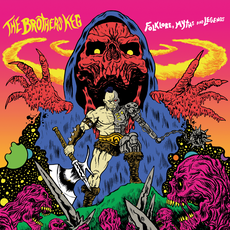 APF Records, for me, has become almost like a quality seal. Whenever I come across a band that is signed to the label, I can almost guarantee that it's going to be something that really tickles my testicles, so to speak. However, I'm finding that I sometimes struggle to keep up with their roster, which means I miss the odd release. Fortunately for me, those guys APF have cottoned on to the trend of re-releasing successful albums on vinyl to appeal to the hordes of record collectors, and it's through this that I find myself listening to the debut album from one of the newer signings – The Brothers Keg almost a year after it was first unleashed unto the world.
'Folklore, Myths and Legends of the Brothers Keg' had a pretty strong reception when it was released in digital format last year, which has been a driving factor for the demand for a vinyl release, so it's about time that I get myself absorbed in it to see what all the fuss is about. First impressions are that this is a band who want you to sit up and take notice of the heaviness of the music, but we aren't talking heavy through the use of droning bass and pounding drums. Instead, The Brothers Keg takes a heavy psychedelic sound, and sharpena it into a point that delivers the heaviness in a more direct manner. It seems to me that there's a bit of Hawkwind influence that draws the band away from many of their compatriots in the doom and stoner scene and makes them stand out just that bit more.
This psychedelia is reflected really well in the album artwork for 'Folklore…' which is going to look pretty impressive blown up on a vinyl sleeve. It's almost like a psychedelic rendition of Skeletor and He-Man with liberal use of bright colours and a very original spin which results in a mere similarity to the characters (I'm not sure if that was intentional or not, but it's certainly what stood out to me!). If you were to see this on the shelf of your local record store you'd be hard pressed to miss it, and you'll be sucked in to at least take a closer look.
It would make sense to pick out 'Introducing the Brothers Keg' as a track to focus on, which unexpectedly drops in the middle of the album. After a gentle psychedelic sounding guitar intro, it picks you up and throws you against the wall with a crushingly heavy riff and a yell of "we are the Brothers Keg". This is a formula that repeats through the song in a bit of a sine wave of heavy and in your face, with lashings of groove, and chilled out passages. There's no way you'll be forgetting who this band is in a hurry, that's for sure.
'Folklore..' is an album that sits really well with me for a particular musical mood. At times it feels quite atmospheric and you can get swept along by the psychedelic sounds, and then at other times it's as heavy as something like Mastodon. But it manages this without overly increasing the pace which results in my head inexplicably slowly bobbing back and forth. It's not something I'll be turning to when I'm in a particularly raucous party mood (which I am pretty often) but it is something that I can see myself listening to in slightly more mellow evenings as well as being a strong contender for a great live show.
Originally slated for release on the last Friday, a quick visit to the Bandcamp page (perhaps to place an order myself..) reveals that we're now looking at the 30th August due to a number of effects causing a delay in the production of this sexy hot pink vinyl. But don't worry, it just means that you have a little extra time to save up those pennies to place an order for a copy. Let's face it though, at a mere £16 (plus postage, I assume) it's a bit of a steal really! At the very least, it's got to be worth at least a listen in digital form if you're not on the vinyl bandwagon just yet.
'Folklore, Myths and Legends of the Brothers Keg' is released on 30 August. You can get your copy HERE.
www.facebook.com/thebrotherskeg
All content © Über Rock. Not to be reproduced in part or in whole without the express written permission of Über Rock.