By Jim Rowland
Round about now, many of us that love and have missed our live music will be making our first tentative steps back to experience it once again. For me, it meant diving in the deep end – camping for two days at the Rock & Blues Custom Show in Derbyshire, a bike and music festival I used to regularly attend but haven't been to for a good ten years…
Arriving in the most torrential rain I've probably experienced in the last 18 months was indeed diving in at the deep end, and a reminder that for all the hankering after the live music and festival experience we've missed, you can come crashing back down to earth in wind, rain and mud. Or is that all part of the fun? These days the RBCS has scaled back in size quite a lot from the days I used to go and saw the likes of UFO, Twisted Sister, Rose Tattoo, The Stranglers and Hanoi Rocks amongst countless other bands. The main stage is housed in a big marquee now, with a smaller outdoor stage nestled in amongst the market stalls and the custom show itself.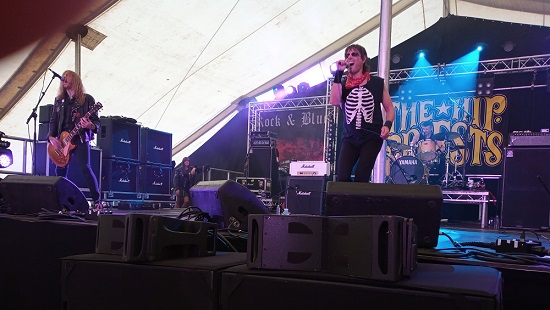 So, after 16 months of live music starvation, who's the first band to cross my path? Well none other than the mighty Hip Priests, making the short trip from Nottingham – not a bad choice for first band back to say the least. Like many of the bands on the bill, this is their first gig back too, but there's no sign of rust as they fire on all cylinders belting out their brand of sleazy, dirty, punky rock'n'roll. The sound system is superb, and as they breeze through belters like 'Zero Fucks Given' and, appropriately for a custom show, 'Jesus Died So We Could Ride', you can feel the kick drum pulsating though your chest and you know that live music is back. In fact it's a bit like that 16 month starvation never actually happened.
From the hardest, fastest and nastiest band of the weekend to probably the youngest in the shape of Vambo on the second stage, where by now thankfully the torrential rain has stopped. This highly impressive London four-piece specialise is '70s flavoured classic rock, are skilled musicians, and have some quality tunes of their own like 'Why Why Why' and 'Now You See Me' in a set that also features impressive covers of Zeppelin's 'Good Times Bad Times' and Deep Purple's 'Burn'. Definitely a band to look out for if classic rock is your bag.
The Wildhearts already have a few post-lockdown gigs under their belt (including the previous weekend's Steelhouse festival), so they're a well-oiled machine as they perform their headline slot in a packed, and pretty muddy, main stage tent. A career spanning set features crowd favourites like 'Caffeine Bomb', 'TV Tan' and 'My Baby Is A Headfuck' to an appreciative and by now well lubricated crowd.
Despite being on first, I have to say The Hip Priests got my vote for band of the day.
Whereas the Friday main stage acts were from the more sleazy, punchy end of the rock'n'roll spectrum, Saturday's vibe is very much centred around melodic rock and AOR. Former Skin guitarist Myke Gray has a dedicated and fanatical following at the front of the stage as he leads his band through a set of heavy melodic rock that packs a punch and pleases the punters. Plenty of passionate singing along from them too, it has to be said.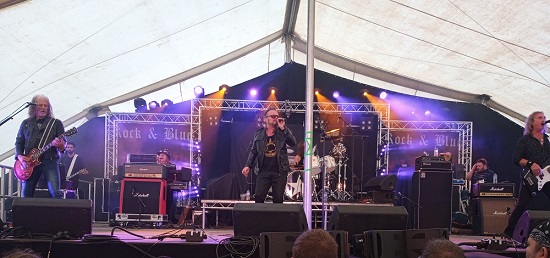 For pomp rockers Cats In Space, this isn't just their first gig back, but also the first gig with new singer Damien Edwards, despite the fact that he already has one album, last year's 'Atlantis', under his belt. He fits in great, complimenting Cats In Space's 'fun' take on things, and has a superb voice that at times can hit ridiculously high notes bringing Boston's Brad Delp to mind in places. The set spans all four of the band's albums, and much like Myke Gray, there is a dedicated and passionate audience to appreciate it at the front of the stage. For me, this was Saturday's outstanding set.
The idea behind The Chris Slade Timeline is to showcase highlights from this drum legend's career, which is now not far short of a remarkable 60 years. There's too many top acts he's played with over that time to cram them all into an hour's set, but the likes of Asia, Manfred Mann's Earth Band and Uriah Heep are represented alongside, of course, AC/DC. Slade's first job was in fact with Tom Jones, and 'Delilah' probably gets the loudest sing along of the day. It's not too surprising that the bulk of the set is AC/DC material, with 'Big Gun' and 'The Razor's Edge' providing a treat for 'DC fans – when was the last time you saw AC/DC play those songs?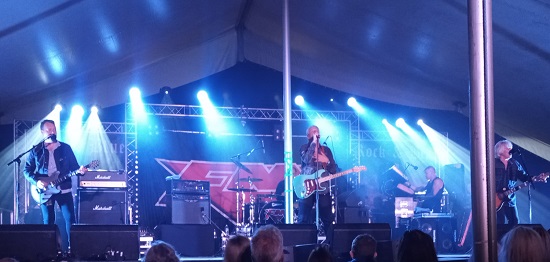 Finally, it's appropriate that on a day dedicated largely to AOR and melodic rock, it's one of Britain's most enduring acts in that field, FM, that close the day with a headline slot. Whilst I've never really gone down the route of listening to FM's albums, this is about the fourth or fifth time I've seen them live now, and each time they've been really enjoyable. Tonight is no exception.
Rain, mud, wind, questionable food, a puddle of rainwater in your tent, a hangover, great music and a great little festival. Welcome back to all of it.