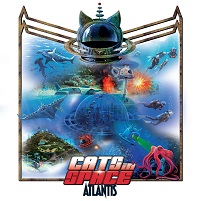 Cats In Space rather took me by surprise when I saw them supporting Deep Purple on the 'Infinity' tour a few years ago.  The musicianship and song writing really impressed. Then followed their own headline tour on the release of 'Day Trip to Narnia', which was a wonderfully tongue in cheek lyrical adventure. So reviewing this from a converted fans perspective was going to prove a little different given the loss of Paul Manzi as a front man.
It didn't take long to realise that the songwriting and mixing, mastering and production remained at a superb standard.
So the remaining question was could the new singer (the second since the departure of Manzi) stand up to scrutiny. Well, for those of us who got to see Jeff Wayne's 'War the Worlds' it was a no brainer.  The addition of Damien Edwards has easily been a great decision.  Whilst he has a superb range, the style is different to that of Manzi: a bit gentler, power-wise, but nonetheless equally as impressive.
At first listen the production has gone up a a whole level with more orchestral support in many of the tracks provided by Mike Moran.  The backing vocals are in the same style as Sweet provided in the '70s.  The glam rock style is alive and well in the Cats style.
Retaining some of the tongue in cheek lyricism of 'Narnia' across the tracks like 'I Fell Out Of Love With Rock And Roll' and 'Queen Of The Neverland' did nothing to detract from the ultimate enjoyment of listening to another superb release from the band.  Probably my favourite track on the album has to be the upbeat 'Magic Loving Feeling' with its mix of acoustic guitar introduction and many different instrumentation styles throughout: this could be a single for the "pop charts".
Twelve tracks worth every penny of your hard-earned cash.  This is an album tour I will hopefully catch up on when live music returns in 2021.
Cats fans will love it, and I'm sure there are likely to be a few new converts en route.
'Atlantis' is released on Friday (27 November). You can get your copy, and loads of other Cats In Space goodies, HERE.
Cats In Space will be holding a livestream, also on Friday, from KK's Steel Mill in Wolverhampton. Tickets are available HERE.
www.facebook.com/catsinspaceband
All content © Über Rock. Not to be reproduced in part or in whole without the express written permission of Über Rock.