By Steve Mirsik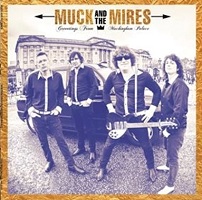 Have you ever wondered what The Beatles would sound like if they were a killer garage punk band? Well, Muck and the Mires, hailing from Boston, Massachusetts, is the perfect embodiment of that sound! Their latest full-length release, 'Greetings From Muckingham Palace', is guaranteed to be an instant classic. Each of their 14 songs is roughly two minutes long and they all pack a memorable punch! Drawing on influences from The Ramones, The Sonics, and The Beatles, you'll instantly be transported to better days. 2020 might have us down in the dumps, but right from the start I was drawn in by the pop rock grooves of 'This Time I know I'm Right'. This track grabbed my attention and filled me up with its much-needed feel-good vibes.
Believe me, Muck and the Mires are no one trick pony! The second track, 'I'm Your Man', is an infectious, punk rock jam that instantly got me moving and shredding some serious air guitar in the living room. With catchy vocals, driving rhythmic percussion, and a soaring guitar solo, this song has it all! It is easily one of my favorite tracks on the entire album. 'Break It All' is another infectious, harmonically-rich tune that will transport you back to the dancehalls of yesteryear. If you're in the mood to break out your lava lamp and catch some trippy psychedelic vibes, 'Strange Waves' is the perfect fit for you. 'Messed Up Mary' and 'Cupid's Not A Friend Of Mine' are also two stand out tracks that will have you rocking out in no time at all! There's something incredibly satisfying about this album because each track shows off a different influence from various genres.
There's a reason that these guys were featured on MTV and won Little Steven Van Zandt's (E-Street Band/Underground Garage) battle of the bands competition. In addition to the top-notch musicianship and songwriting, this album is also produced by the legendary Jim Diamond (White Stripes). There's absolutely no doubt in my mind that Muck and the Mires are the real deal. This is one of the most intriguing albums of the year! They've blown open the palace doors and are proudly flying their rock n' roll flag high as they invite you into the wholly unique venture that is 'Greetings from Muckingham Palace'. Make sure you pick up a copy and let us know what you think!
'Greetings from Muckingham Palace' is released on Friday (27 November). You can get your copy HERE.
www.facebook.com/muckandthemires
All content © Über Rock. Not to be reproduced in part or in whole without the express written permission of Über Rock.