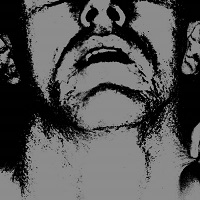 Christmas is about to come early for fans of Rhode Island hardcore punk quartet Dropdead. Later this month a plethora of re-mastered material will be released on the bands' own record label, Armageddon. It's been a project that took seven years but finally, due to the unfortunate impact of lockdowns and the reduction in live shows, guitarist Ben (Barnett) has found the time to focus on this project. The enhanced versions of Dropdead's first two albums were reviewed on Über Rock last month. Let's now take a look at 'Discography Vol 1s and 2'. 
'Volume 1', remixed by Kurt Ballou (Converge/The Huguenots) and mastered at New Alliance studios, Somerville covers the early reels in the '90s period (1992-1993). Originally released in 1994, as an 11" long 'lay on Clearview, and via Flat Earth in 1995, it consists of songs from the first LP and the split offerings of their early career including their collaborations with Crossed Out and Rupture. However, there is a little extra icing on the cake if you fork-out for this new version. Volume 1 is now in stereo and contains three new tracks from unreleased early studio material. It also comes in a limited- edition vinyl with gatefold sleeve and… wait for it… a 12×24 poster! Oldschool!
There are 42 tracks here, 39 originals plus, added in at the end, the three 'new' additions: 'At The Cost Of An Animal', 'The Circle Complete' and 'Internal'. With track speed and sound quality enhancements, 'Vol 1' now gives any fan a clear view of Dropdead as they started out. The pace is blistering, the venom is real and the messages about animal rights, political atrocities and the rape of our world are brutally concise.
'Volume 2' is more of a journey in that it covers a longer period in the bands' career, from unheard early demos in the mid '90s to the second album and even into the early 2000's. The track list is lifted from the 'Hostile' and 'Arms Race' EPs, from collaborative releases with the likes of Unholy Grave, Converge and Systematic Death and from compilation albums. Again, mixing is courtesy of Kurt Ballou, this time at state of the art GodCity studios in Salem, Massachusetts.
Available on limited edition coloured vinyl with a silver laminate sleeve, Volume Two also boasts 42 tracks. Seems to be the number. You can hear the progression in the sound here with this discography in the main more hardcore sounding. Bob Otis screams unintelligible vocals over a cacophony of clashing thrashed out sound. At this point in their career Dropdead firmly find their feet and their music is even more impassioned and ferocious. However, the message can become a bit lost in the chaos. Pure aggression comes across however, loud and clear.  With the band's recently released third album, we see this aggression re-focussed through a clearer vocal so that the lyrics, so that this fundamental message is clear as well as loud.
This new raft of releases from Dropdead follow the 2019 sale of an unplanned compilation of unreleased demos, which was issued in order to raise money for a new van after theirs was stolen. I'm sure Dropdead will soon have enough money for a new van, or if they have that already they'll have the extra funds to trick it out – hopefully with some extensive tours in mind.
If we don't get out of lockdown anytime soon at least we have a soundtrack to chew over. Dropdead may have taken a while to complete their re-mastery project, but they've done so at exactly the right time. They've got a captive audience and there's little doubt that, with the pace of life slowed down to a crawl, they'll push their political message inside our heads.
Listen to these discographies and learn, or perhaps re-learn, who Dropdead are. A band with a clear and consistent identity, a common goal and a message that they intend to deliver with brutal clarity, whether you want to hear it or not. Discover the meaning of life in each 42-track offering and look inside yourself, free of the detritus of the daily grind, to consider your values. Most importantly … act, before it's too late. Merry Christmas!
Both volumes of 'Discography' are released next Monday (30 November). You can get your copies, and loads of other Dropdead goodies, HERE.
All content © Über Rock. Not to be reproduced in part or in whole without the express written permission of Über Rock.