By Juan Pablo Mazzola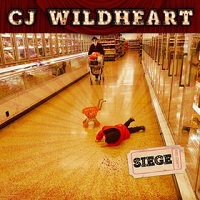 CJ Wildheart is back with one of his awesome solo albums – and we all know what that means : punk rock, killer riffs, hooks, lunacy and big melodies.
One thing I love about him is that at some point he decided to use the name "Wildheart"; that in my world gives it some kind of cult thing. The Wildhearts and everything that's related to them keeps real rock and roll alive.
'Pecking Duck' and 'State Of Us' are explosive nutty songs where his guitar crunch is all over the place, Punk is alive and kicking with "The Ones You Do Not See", of course mixed with very heavy riffs.
'Siege' sounds like CJ's at his heaviest: pretty fucking noisy. Just listen to 'Charles' and you'll find out; it's same case with 'Fruit Loop' and 'Iscariot'.
The very short 'TP' is the most Wildhearts song on this album, while 'Shit Brick' is a personal favorite here, as he rails against the lies that keep coming from TV and radio….."it's just a shit briiiiiccckkk"
I adore CJ's albums: you know what are getting and it always pays well. Catchy hooks and insane riffs are always welcome, especially in this horrible fucked up world and era we are living in. Perhaps he wrote the perfect soundtrack for this worldwide mental collapse: just take a watch at "State Of Us" video" in which he starts by singing "I take a look at the state of the world"…
I guess he brought madness to the table this time. It's a hardcore album and that's very OK.
Fuck 2020, let's listen to this album and drink a thousand beers.
'Siege' is released on 11 December. You can get your copy, and other CJ goodies, including his wonderful sauces, HERE.
All content © Über Rock. Not to be reproduced in part or in whole without the express written permission of Über Rock.