Interrogated by Gerald Stansbury
Quinn The Brain are a new band from Houston who this coming week are releasing their first official EP, 'Open Wide', which I can pretty safely say is my EP of the year. It was a show by the awesome Pretty Vacant (also from Houston) where Arta Salehi (vocals/ guitar) and myself met by chance a few months ago. I have been playing the EP nonstop since probably the end of February or beginning of March. Hopefully, you caught my review when it ran back in April.
Salehi and I recently braved the Covid lockdown and utilized the power of the internet to chat formally about the band's past, present, and future. I started by asking her, as QTB most likely is going to be a new band for most of our readers, to tell us a little bit about how the band got started and arrived to where they are now…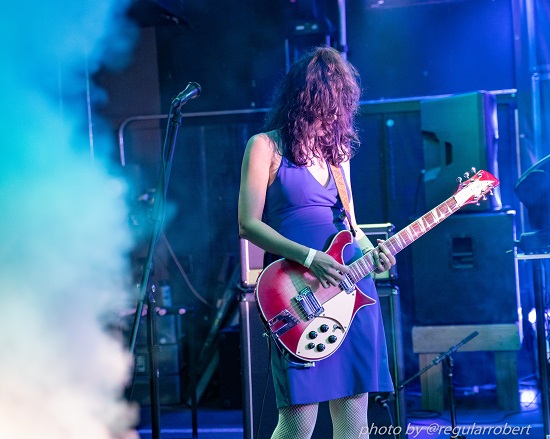 QTB got started right after my previous band fell apart. At the time, I was really upset because I had been trying to get a band off the ground for years. Every band I tried to start ended up falling apart before we could play any shows, but I was hell bent on making it work. It wasn't until Billy (drummer) and I started jamming together "for fun" that things finally fell into place. Together, we've been through a few bassists, but I think we finally found the right guy for the part. Steve recently joined the band late last year and has already been turning heads at our shows.
I know several of the bands you like based on our conversations where we joke about raiding each other's record collections but tell our readers where you pull your influences from and how they impact you as an artist.
I'm a music lover so I can be all over the place when it comes to listening to music, but with the band, my biggest influences are Babes In Toyland, PJ Harvey, Pixies, Sonic Youth, Hole, Jack Off Jill… I could go on and on. Babes In Toyland was the first band that really made me stop in my tracks. The music spoke to me on a level that I didn't know existed, and I realized that I didn't have to sound pretty to sound good.
You obviously have more material than what is on the EP, and it seems to me that these songs seem to correlate as being some of your earliest material. The growth between where they started and where they are now is very apparent. How did you decide what would be on the EP? Looking down the road, will there be another EP or full length next?
Before we came out onto the scene, we recorded a three-song EP (that we now consider demos) with a bassist that left the band shortly after we finished recording. It was nothing personal–he was just ready to move on. So, when the band officially came out in 2017, we were already on bassist #2. And he really wanted to be on the recording, so we decided to re-record the EP. We were never truly happy with it anyways, so we decided to redo it and add one more song. Ironically that bassist also left during the recording process (also not personal) which is how BLACK ended up on the new EP as a hired gun. We're much happier with this EP so it was worth the redo. We've had an album's worth of material for a while, and originally that was the plan to release a full record. But things change, bassists leave and you have to come up with a new plan. Down the road, we're looking at either a string of singles or another couple of EPs.
We both love The Wildhearts, and your EP really made me think of those great days when they would release a new four-track single where every song was incredible. How did you decide on 'Open Wide' being the first song on it?
'Open Wide' was the "new" exciting song at the time. I knew when we redid the EP, that we would be pushing 'Open Wide' as the single. It's also the only song people haven't heard recorded.
Similar to The Wildhearts, there is a penchant for the occasional profanity which has recently complicated things for you. What exactly happened?
Unfortunately, I have a potty mouth. When I was younger, I thought cursing would make me sound older and therefore get me into bars (it did), and I guess it just stuck. It bleeds into our songs because that's how I talk which can be an issue for anyone who wants to keep things TV/radio friendly. In 2018, we were told to keep it classy when we debuted on TV, and I just kept sticking my foot in my mouth. Next time, I'm just going to have to practice how to be a decent human being!
Obviously, the world has changed considerably since we first started talking a few months ago. As a new artist, how has COVID 19 altered your approach with this release and the band in general?
The virus changed everything for us. We were planning on doing a summer tour across the South to promote the EP as well as dropping a music video the day the EP released. Those plans got shot down, but the EP could still come out. We're not planning on waiting the virus out. We're just going to have to adapt. I'm OK with taking a break from live shows. We've been playing pretty regularly for a while so this is a good chance to focus on other areas of the band. More than anything, I want to record more.
I have yet to experience the band live, but that will hopefully change sooner rather than later. Your songs provide extreme catharsis for me to relieve any rage I am experiencing. What is it like for you on stage as you are baring your heart and soul up there?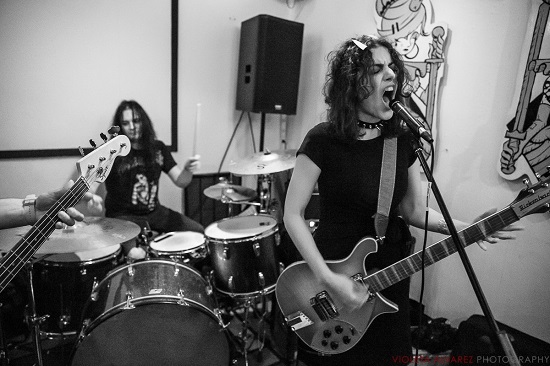 It's like a rollercoaster of emotions. I constantly want to be the best version of myself so I'm always pushing myself into uncomfortable situations, both on and off stage. I used to notice every little thing when we were on stage and now I don't see a thing. I've learned to focus my attention on what we're doing instead of what others are doing. So most of the time I'm just getting lost in my own emotions. The greatest feeling is when you give yourself goosebumps because for a second, everything sounds and feels perfect.
Are there any preshow rituals that you or the band do?
I usually do some quick vocal warm ups and hand stretches in the bathroom or any private place I can find before we go on. But normally we're just chatting it up with anyone and everyone who wants to talk to us before we play.
Something we both prefer is having something tangible in our hands from bands, whether it be vinyl or CD.  This came up with us discussing the latest EP ('The Angry EP') by Hands Off Gretel. With 'Open Wide' being released on CD, I have to ask if there is a potential vinyl offering in the future.
I highly doubt it. Bands like Hands Off Gretel can pull it off because they have a solid fan base so it's not much of a risk to do vinyl. We're still considered new so releasing vinyl isn't on the horizon just yet. Maybe when we become more established…
You designed the artwork for 'Open Wide' yourself, and I cannot remember where I was that I had seen you were handling a lot of the design work before knowing you were doing the artwork for the EP. Tell us a little bit about your approach to art.
It's really important to me that the artwork reflects our music. I'm always thinking of the big picture. Honestly, I'm always thinking about the band in general. I've learned through artistic collaborations that the easiest way for me to achieve what I'm looking for is to just do it myself. I'm not looking to do it all, but I know what I want, and I know how to do it, so I might as well. Luckily, my background is in marketing (design) so through years of work, I've sharpened my creative skills.
Houston has a nice variety of bands here and some definite diversity. What are some of your other favorite artists here? What makes them standout to you?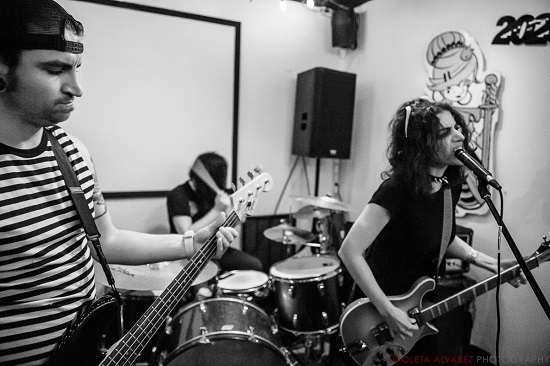 Houston has a lot of cool underground bands. The trick is finding them. Some of the bands I've found by going to shows and some we've played with. There's been a lot through the years, but I'll list a few that I personally enjoy and are still around: Pretty Vacant, Branagan, Frog Hair, Doomstress, Camarilla, Bayou Saints, Cactus Flowers, Mydolls… These are just a few off the top of my head. There's various reasons why they stand out, but it always comes down to the music.
Outside of the band and art, what other activities (outside of work naturally) take up your time? Is there something we would be surprised to learn? We will not discuss our mutual trouble with science here.
Hmm, honestly there's not much time left afterwards. The majority of my time is spent on the band and whatever time is left (outside of work) is divided between family, boyfriend and friends–which never feels like enough. I occasionally pick up freelance marketing/graphic design jobs, but I try not to overdo it. I have a bad habit of spreading myself too thin.
https://www.facebook.com/quinnthebrain/
All content © Über Rock. Not to be reproduced in part or in whole without the express written permission of Über Rock.