By Gerald Stansbury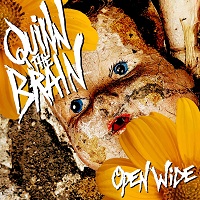 Sometimes we have interesting stories about how we discovered the bands we love. I went to a local show to check out the brilliant Pretty Vacant (more on them in the future) and saw this person walking around a bar in Houston wearing a Hands Off Gretel jacket. Obviously, I had to find out more about this person as I thought I was the only HOG fan here in south Texas. Discussion turned to bands like The Wildhearts, and I knew I had found someone with a kindred musical spirit. I soon found out she was a member of another band, and she asked me to give this upcoming release a review. I think I can just write 'EP of the Year' in ink and call it a 2020. Quite simply, these four songs immediately connected with me at my very core. Drawing from a variety of influences, Quinn the Brain has crafted one of the most powerful statements of intent that has ever been laid down and set up extremely high expectations for the future.
After a few listens, I identified the opening guitar tone of 'Open Wide' recalling Monster Magnet via the 'Spine of God' era as the song soon becomes a swirling mix of rage and music. Arta Salehi clearly channels some raw soul ripping emotion here with such power that I can feel it tearing through my soul. I am reminded of early grunge with touches of post hardcore influences. There is a respite at the end of the song where you can take a breath. The bass line of 'Step On Me' has permanently carved its way into my internal rhythm as the song channels the same kind of magic as 'Touch Me, I'm Sick'. Salehi utilizes a different vocal approach here in the beginning and then utilizes several tones as the band channels some awesome anger that pulsates throughout the song. The rhythm section of Jon Black (bass on this release) and Billy Kimmel (drums) are quite simply amazing throughout this entire EP with this song being a stellar example. It is not just that you catch yourself head banging to the song it is that your entire body locks into the groove. Salehi's guitar cuts through in the perfect spots. I will tell you this was initially my least favorite of the four songs here, and it was initially a 10/10 for me.
'Comes in 3s' was a song I initially fell in love with via YouTube, and this proper version takes the song up about 20 more levels. The grunge influenced guitar serves as the perfect introduction as Salehi sings a hypnotic chorus which has made the hairs on my arm stand every time I play the song with her voice full of rage in other places. Black and Kimmel again provide such a great rhythm that staying still is not an option throughout this ritualistic hymnal. Wrapping up this masterpiece, 'Dark Skies' slowly bubbles up from the depths of some dark angst-ridden pit. The slow riff creates uneasiness in the best of ways with a bottom-heavy mix influenced by the likes of Black Sabbath and Blue Cheer. The trio has created a mammoth sound here that also reminds me of early Soundgarden as it tears down the walls, and credit must be given to Black and Jim Anthony Kane for the outstanding production and mix.
Quite simply, I don't see any other EP this year coming close to topping these approximately 16 minutes of musical brilliance. To borrow a line from somewhere else, music often chooses us, and this band has connected with me at a molecular level in a way that seldom happens. These songs provide catharsis to the darkest recesses of my soul. I cannot recommend this one enough if you want music filled with great songs, rhythms, hooks, danger, soul baring emotion, and heart that drips with angst.
'Open Wide' is released on 29 May. Check the band's Facebook page for updates.
www.facebook.com/quinnthebrain
All content © Über Rock. Not to be reproduced in part or in whole without the express written permission of Über Rock.