By Jonny Bakes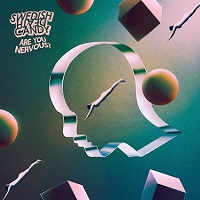 Every now and again an album crops up that really encourages you to delve deep beyond the music and into the lyrics to find those deeper messages and meanings that the band have carefully hidden away. Sometimes you can get so lost in this little voyage of discovery that time seems to just fly by and you forget what you're supposed to be doing, which isn't helpful when you're supposed to be writing a review… But that's exactly what the latest release from Swedish Death Candy promises to be.
Swedish Death Candy are no newcomers to the scene, since their formation in 2014 they've already got an EP and full-length album under their belts but now it's time for that follow to 2017's self titled album. And what a time to be releasing a new album, the whole world appears to be in a state of turmoil, particularly in the band's native Über Kingdom where things get stranger and stranger every day to the point where satire is rendered almost obsolete. So, drawing upon all of this chaos and confusion they ask the simple question 'Are You Nervous?'
So, considering this general universal feeling of unease that has inspired the title of this album, have Swedish Death Candy successfully captured this? They most certainly have. With songs that express many different things, from the story of a child raised by a machine, to the concept of unconditional love and a bleak look at the effect mankind has on the environment this album has you covered.
But while conveying these hard hitting, and sometimes very bleak themes, the band keep the musical tone light and fuzzy. This is certainly a real step forward from their debut outing as they really started to develop the stoner and desert rock feel within the music. Those of you that haven't listened to Swedish Death Candy before will probably be struck by the musical similarity to Queens of the Stone Age as soon as you spin the first track, 'Interstellar Love Machine.'
'Modern Child' is the first track to really stand out to me as I listen through this album. Initially the draw is from the upbeat rhythm, offbeat hi-hat, and the fantastically stoner/desert rock riff. The vocals from Louis Perry provide a slightly melancholic contrast to the upbeat music to give a really well-rounded track, but let's dig a little deeper…
Buried within this is the story of a child born in the future and raised by robotic parents who lacks any human connection. The robotic mother, concerned that this has turned the child wicked, sets of to find a human partner for the child, they fall in love and the wickedness is gone. The line "Girl you blow my mind" is frequently related to really enforce the passion between these two humans when they first meet. We also see the use of the album title with "Oh, are you nervous? No, never at all" conveying one of those rare moments of passion where all inhibitions seem completely irrelevant.
I could really dig into every track on this album, but I wouldn't want to spoil that adventure for you. Instead I will just delve into one more, the poignant 'Mother (Earth)' which starts with a very Hawkwind-like futuristic intro. From the title you can probably guess where this is heading, it's a look into the ability of man to shape nature, for better or worse. It hints at a real responsibility for everyone to make a positive impact on the world, but that this shouldn't be seen as a burden… "Feel the weight on my shoulders and I don't mind"
But it also makes clear the real destructive force of nature, bringing to mind the seeming increased frequency of natural disasters today. Could this be a reactive force to the destruction caused by man? As the lyrics go – "Please remember you never wanna get on her nerves."
So, there you go, it's not often an album really triggers that side of me that loves to delve into hidden meanings. For that reason, I would definitely recommend this album, particularly if you too like to get lost down that rabbit hole. And if you like to stay more superficial, then you'll still really enjoy this album if you love a bit of stoner/desert/fuzz rock. It's one of those albums that seems to change depending on how you want to approach it, almost like a double album merged together on the same disc. An experience that shouldn't be missed!
'Are You Nervous?' is released on 27 September. You can get your copy HERE.
www.facebook.com/swedishdeathcandy
All content © Über Rock. Not to be reproduced in part or in whole without the express written permission of Über Rock.