By DJ Astrocreep
Having caught Vola supporting Haken earlier this year, I was pleased to see that I had an evening free when they were playing in my second home of Manchester. Willing to give them a chance to impress me more still than last time, I braved train and tram cancellations to make my way across for the gig.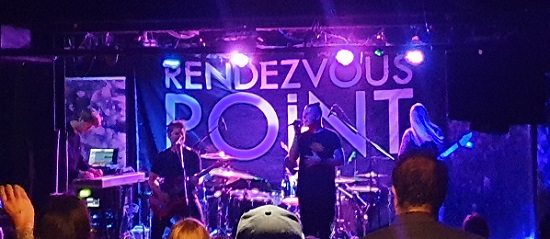 Our first band of the evening are Rendezvous Point, a five-piece Norwegian melodic prog metal band. They start off quite quietly, with the set coming across like it builds itself into a crescendo to finish. The room is busy with nodding heads, as Rendezvous Point capture everyone's attention – I feel like I stick out having my phone in my hands to take notes – with a well-crafted set that is heavy on the melodic and progressive side, but on the lighter scale of the Prog metal bands, easing us all in to the evening. The vocal and bass intro is very good at the start, properly nudging us into the set in quite the manner of Anathema's 'Pulled Under At 2000 Metres A Second', which is a recurring thing through the set – something which sets very well with me. There is a good appreciation level from the crowd throughout the set, very deservedly so, meaning they have certainly gained some new fans tonight. A very good opening set.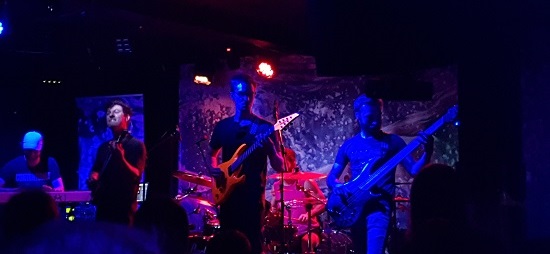 Arch Echo describe themselves as instrumental, progressive music for nerds – I'm half sold on that description alone before I even hear their soundcheck! The guitar wankery is certainly strong with these ones and used to very good effect, providing an emphasis on the more off beat bass and drum sections, or a soaring lead at different times, lifting us up to float away. Joey's keys work is excellent, veering between leading proceedings and understated and adding a different feel at the right times – the mark of an exceptional musician – though this could be said about all the band across the board. Their songs feel like a story is being told, despite the lack of lyrics, while the fusion elements work intrinsically well alongside the progressive side, completing each other, rather than detracting. The sea of nodding heads is testament to what those around me think of their set and I find myself in complete agreement. An excellent introduction to this act with a well-played set.
So, Vola time and I'm quickly struck by how different they sound from when I saw them supporting Haken earlier this year. While the power and heaviness is still there, at times, from their former set, there is a lot more emphasis on Asger's vocal and delicate harmonies with interspersed the aforementioned heavier tracks – something that serves them extremely well and properly showcases the range of their talents. The sheer ability of each member is clear to see and hear as they all perform their parts with aplomb, each taking their individual chance to shine when the opportunity arises.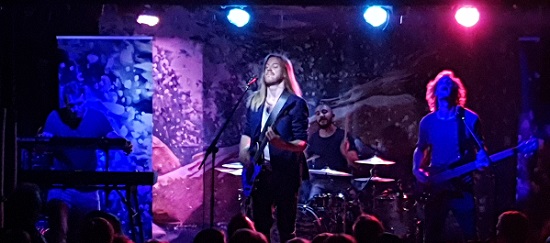 The main surprise from the setlist has to be the inclusion of 'A Stare Without Eyes' which, prior to London the evening before, had never been performed by the band live before. While the songs all go down well, this in particular does so, maybe on account of it getting its live debut, maybe to the sheer musicianship on show from the band – both would be equally valid reasons. The technicality of some of their songs, especially the bass work, comes out more still in this live setting too, allowing the musicians to express themselves fully and receive just applause, such as they get in turn here. The crowd have been up for it right from the get-go and the busy room has never felt more into it than with our headliners. It's a spellbinding set that garners everyone's attention, not letting go until the final note. A great evening of guitar wankery.
The tour concludes at The Bodega in Nottingham tonight (Tuesday 10 September).
PHOTO CREDIT: Photos by the author.
All content © Über Rock. Not to be reproduced in part or in whole without the express written permission of Über Rock.