By DJ Monk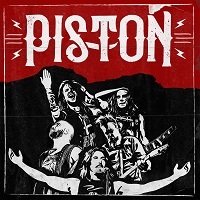 Some days all you need is some good old-fashioned, honest-to-goodness unpretentious rock 'n'f'n' roll. Well, actually, that would be most days here at ÜRHQ. Yep, it may be only rock 'n' roll, but we love it… and we love this self-titled debut album from Midlands rock 'n' rollers Piston, which has been bothering our deathdecks for a couple of weeks now, ahead of its official release later this week. And, as you might have gathered, it's both a band and an album that is all about making that rock roll and that roll rock…
Actually, it's probably something of a misnomer to refer to this as Piston's debut album, as they had, in fact, one already recorded – and then chose to scrap the whole damn thing to start all over again. Whatever their reasons for making that choice – apparently the first effort did not reflect their "true authentic" – it sounds like it was a wise and laudable move, as this revised offering is an energetic and enervating album, which excites with its dynamism and maturity, while at the same time capturing the vibrancy of their live shows (and, yes, despite being based in Belfast, I have seen the quintet live, thanks to their frequent appearances on various HRH bills over the years).
It is very difficult for bands following the NWOCR path not to be compared to, or display references to, their predecessors, and not to wear their influences firmly on their denim-clad sleeves. And Piston are no exception, with reverential nods to the likes of Bon-era 'DC, most notably in the form of most recent single 'Rainmaker', Bad Company and Thin Lizzy prevalent throughout the grooves of the ten tracks. But, at the end of multiple listens, these comparators do not in any way detract from the overall good-time rock 'n' roll party attitude which Piston bring to the table – or should that be the dancefloor? They'll inevitably fill the latter when they head out on tour from the latter part of this week…
From Rob Angelico's opening rallying call of "c'mon c'mon", the albums ten tracks are so infectious that the local council will be sending a HazMat team 'round to your house if you crank the volume button much louder – and that's exactly what you'll want to do, as this is a solid collection of rock 'n' roll earworms which demand both attention and respect, as well as to be played LOUD. It is some feat for a band, especially in this day and age to produce an album which defines the descriptive of "all killer no filler". Piston have done just that.
Having said that, the inclusion of two of the tracks, 'One More Day' and 'Rainmaker', in remixed format is perhaps a tad unnecessary, as they add nothing to the overall dynamic of this otherwise highly impressive, and compulsive, debut from one of the most genuinely exciting British NWOCR bands doing the rounds at the moment. An essential purchase for fans of classic rock done well, but with a fresh and modern twist.
'Piston' is released on Friday (13 September). You can get your copy HERE.
Piston kick off their co-headlining tour with Collateral on Thursday (12 September), with full dates as follows: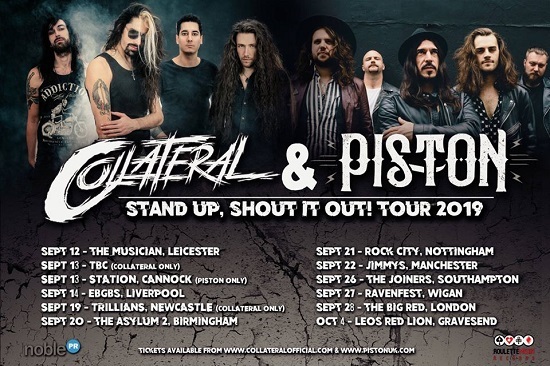 All content © Über Rock. Not to be reproduced in part or in whole without the express written permission of Über Rock.