By DJ Monk
One of British rock's most fondly remembered projects, long thought lost in the annals of musical folklore, have re-emerged from the darkness of obscurity and into the spotlight of the modern scene.
Grand Slam, the band founded in 1984 by the late Phil Lynott, are to release their debut album, 'Hit The Ground', via Marshall Records on 22 November. They have preceded it with a single, 'Gone Are The Days':
Grand Slam trace their origins back to a Lynott solo tour of Scandinavia in the summer of 1983, with a band featuring fellow Thin Lizzy members Brian Downey and John Sykes, as well as then Magnum keyboard player Mark Stanway. Following Lizzy's farewell tour in September of 1983, Lynott revived the band under the name of Grand Slam, with ex-Stampede guitarist Laurence Archer replacing Sykes, who had since joined Whitesnake. The band's flame burned brightly but briefly, as they split up in December 1984, just seven months after making their first live appearance.
Although three live albums were released in the 2000s, no official Grand Slam recordings ever saw the light of day. Several of the band's songs later surfaced on various Thin Lizzy-related releases. 'Nineteen' was re-recorded by Lynott himself and released as what turned out to be his last solo single in 1985, while 'Military Man was recorded by Lynott and Gary Moore for the Belfast guitarist's 1985 'Run For Cover' album. 'Dedication' controversially appeared as the title track of a "very best of…" Lizzy compilation in 1991, with Brian Downey and Scott Gorham having overdubbed the drum and guitar parts on the original Grand Slam demo.
Now, 35 years after their candle burned briefly, and after a couple of attempts to bring the band back to life, Laurence Archer has rekindled the Grand Slam flame, with a new line-up featuring vocalist Mike Dyer and the rhythm section of Benjy Reid and Dave Boyce, for the forthcoming album release , a combination of songs written during the original band's short-lived career and new tunes (it's unclear what happened to Mark Stanway's reported contributions to the recording sessions).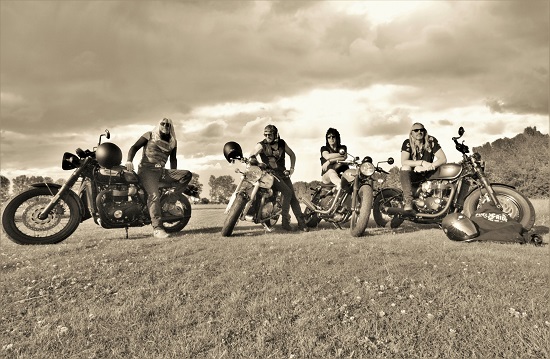 Laurence Archer says of the revived project:
"I've been thinking about this moment for many years and I'm so proud of what we, the new Grand Slam, have achieved, "Gone Are The Days" is the most obvious choice for the first release – it's a song I originally wrote in the late 80's but with the band we have captured all the new and the heritage elements of Grand Slam and my writing. Grand Slam are back and here to stay.
"Obviously at times like this Phil is never far from my thoughts, a friend and a mentor and a hero always."
Vocalist Mike Dyer added:
"Grand Slam is very much a new beast with a love and respect from where the beast was born.
"I think it's fair to say that the five old and five new compositions are honest and true. When we heard some very rough recordings you could hear the potential. I kept feeling that I was on sacred ground and couldn't touch anything. Even had a few nightmares! Then I thought what a shame if I these marques of songs weren't ever finished and never saw the light of day. We then went on to discover our very own sound and wrote a plethora of new material that had the essence of the legacy yet sounded fresh and exciting and most importantly really kicks ass."
'Hit The Ground' is available to pre-order HERE.