By Monk and The Dark Queen
Ireland may well be known as the Emerald Isle, but for the past week it has been transformed into a desertscape, as three of the best-known figures in the stoner rock movement have been traversing their way up and down the island as part of their debut visit to this here corner of the Überverse. Tonight was the fourth show in the series, with one more to come before the trio who take their name from the genre they helped to shape head over the most expensive stretch of water on the planet to bring their renascent vibrations to the rest of the British Isles…
Opening proceedings are Norwegian quartet Slomosa, a new name to the ÜR team and to many present: not that there are that many actually present as they start their 30-minute set, with only about two dozen people having made the effort to turn up early enough to catch them. However, they undoubtedly win over some new fans, given they subsequently seem to shift a decent number of T-shirts.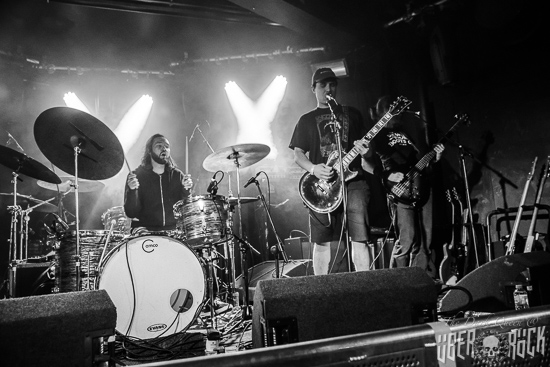 And it is not hard to see why they earn this newfound respect, as, performing against the back drop of a curtain of static blue light, they deliver big, thick, fuzzy grooves packed with tonnes of growling bottom end. There may not be any deserts in Norway, but that does not prevent them producing a sound that is as dense as the forests around their hometown of Bergen and as deep as the fjord on which it stands. The mix is dominated by thick, thrumming basslines, but this is not a bad thing as it adds to the overall impact of this impressive set from these talented newcomers.
One disadvantage of a promoter who doesn't know how to use social media properly is that it can result in a severe lack of communication with fans who maybe rely on something as simple as a Facebook page being updated in order to know what it is going on… Right up until the afternoon of the show, an image showing Patrón as the main support was still being shared on the "official" event page – when, in fact, the band had announced a full three weeks ago that they would not be on the bill! So, it was there was some inevitable head-scratching going on when Dublin trio New Secret Weapon took to the stage for what Monty Python used to describe as "something completely different…"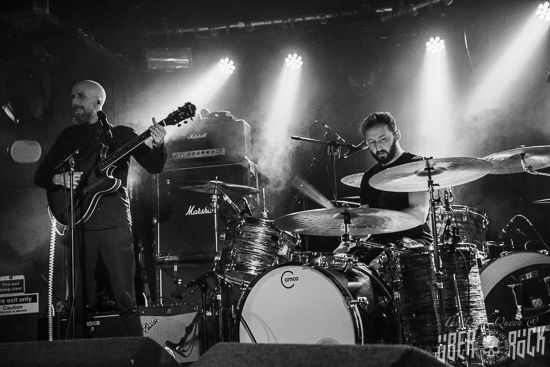 However, any lingering confusion soon turned to appreciation as the audience, which thankfully had grown considerably by this staged, quickly warmed to their rather different sound from what we might have expected given those offered forth by both the opening act and the main attraction. NSW bring more of a post-punk meets alt-pop vibe, although the mix is still heavy on the bottom end, perhaps in an effort to make them sound more "stoner" aligned. The sound is topped off by vocals that sound like David Byrne at his most anguished, and there are some massive funk miens running through much of the bass work.
Between songs, things are slightly disjointed and messy, with constant retuning of the guitar and nervous-sounding banter about the preceding shows: but there is also a degree of humour, as they introduce the instrumental 'Belfast' with the addendum that it had been called 'Limerick' two nights previously. The overall impression, sonically, is very much that of a work in progress, with elements of lounge-lizard blues, acid jazz and even prog mixed into the sound. Entertaining enough for all of that.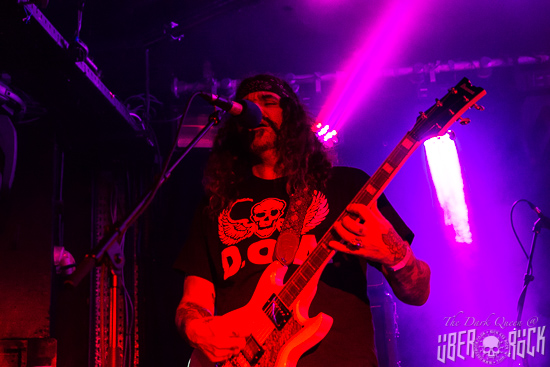 And so it's time for the eagerly awaited headline attraction and it's a case of "Hi, we're Stöner", delivered in as casual a manner as you might expect from the genre of which this trio are prime exponents and proponents. But, at the same time, there is nothing casual or laid back about the intense experience that follows over the course of the next 80+ minutes.  With the audience now at a fairly respectable number – the venue is almost two-thirds full, by my reckoning – we are treated to a masterclass in tight-as-fuck grooviliciousness.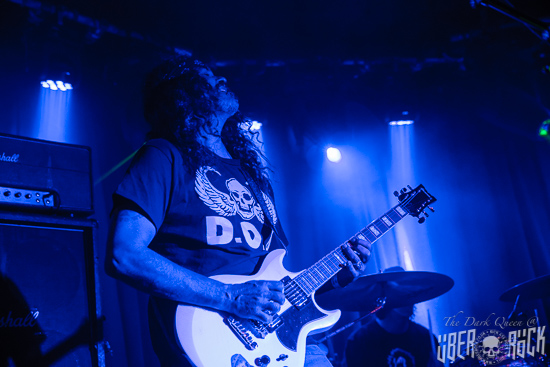 At the same time, Bjork, Güt and Oliveri are obviously having a lot of fun on stage, and the interaction between the trio is almost psychic, with any communication seeming to be made by casual nods and hand gestures. The superb sound mix draws out every nuance of the band and their interactions, from Nick's thick bass through Ryan's precise percussion to Brant's often staccato lead work, via a pinpoint delivery on the alternating vocals.
Along the way, the trio interject plenty of punk rock energy into songs which also meander, psychedelically, around the room, captivating and drawing in each and every soul present before wandering back to the stage and picking up where they left off. Set highlights include 'A Million Beers', which is as frothy and heady as its title, the ironically named 'Stand Down and the meandering trip down to 'Strawberry Creek', all drawn from the new album, which proves that this project is one that definitely has legs for some time to come. Of course, there is also a nod over their shoulder as the set is rounded out with a pairing of Kyuss classics, which ironically earn the most rapturous response of the evening before the band quit the stage dead on the allotted curfew.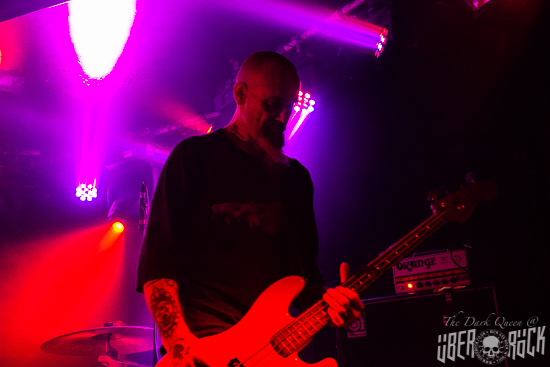 As I said, a masterclass from three of the men who not only created but continue to define the stoner rock sound – and who better to show us exactly how it should be done? If you haven't done so, grab yourself a ticket for one of the remaining shows when the trio cross the Irish Sea…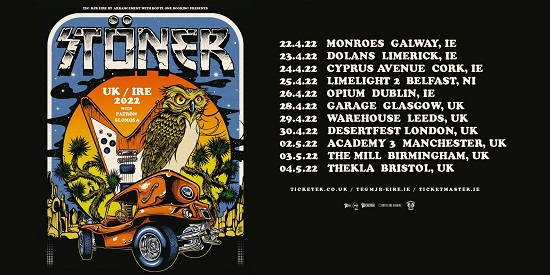 Stöner's second album, 'totally…', is released via Heavy Psych Sounds on 6 May. You can get your copy, and loads of other goodies, HERE.
PHOTO CREDIT: All photos © The Dark Queen/Über Rock. You can view our full gallery of photographs HERE.
All content © Über Rock. Not to be reproduced in part or in whole without the express written permission of Über Rock.